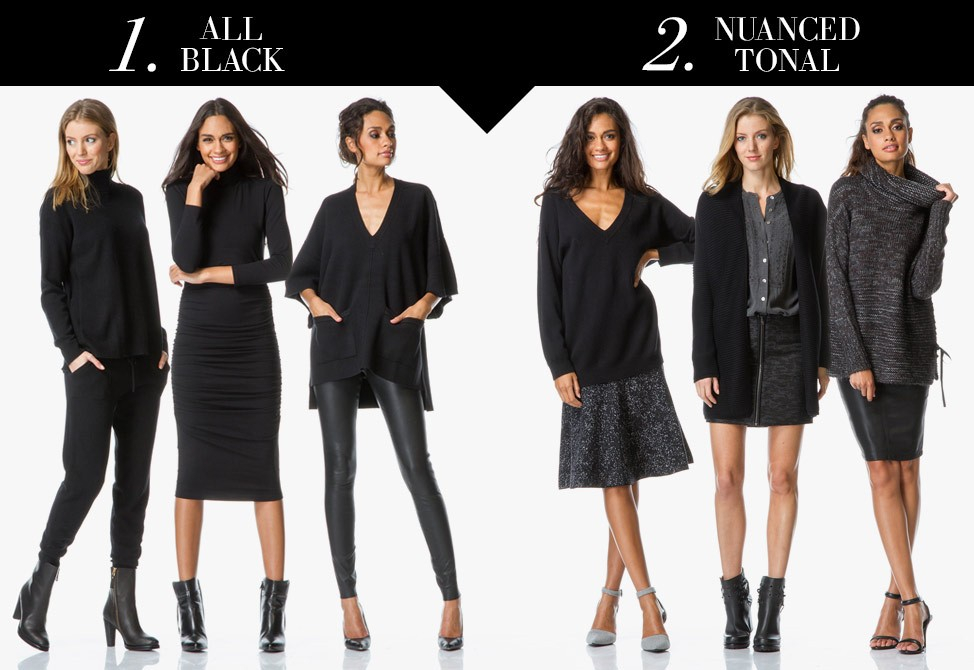 Colors always play a fun part in our lives. On days when you feel dull, bright colors could lift you. But, have you ever thought about a full black outfit? After a whole year of virtually attending meetings or talking to friends over a zoom call, things have finally settled down a bit, and people can step out of the house.
Since you can step out of the house now, why not enhance your street-style fashion? Whether it is the interesting silhouettes, sleek tailoring, classy shoes, accessories, all of it should be well put together. In between, comes the color black. It is the most elegant color to wear and can surprisingly fit any kind of occasion. Office parties, shopping, workdays, chilling with friends, all of these occasions can be styled by the same color clothing – black.
Ahead, you'll find some all-black outfits that can inspire your look and your wardrobe. These looks would surely give out a boss lady vibe from you!
Barrel pants and basic tank top
Going basics with black is the best option. If you are planning to go to a mall or just hanging out with your friends, wear a nice-fitted black tank top and pair it with black pants. This would give out the best casual look you have ever tried. If you think this is too much black, slide in some white sneakers as your footwear. But if you are a completely black outfit fan, you can wear black slide sandals or shoes as well! 
The classic suit look
Worried about an office look? Well, strike it out with a classy all-black suit. Black t-shirt/shirt, buttoned vest, and flared trousers. The perfect look you can ask for. This would give you the right office look you were thinking of.
And if you think that this look can only be worn at an office, you are wrong. Going out for a coffee? Wear the flared trousers and your buttoned vest. Put on some neutral heels and you have the perfect look ready.
Black embellished jacket and tailored pants
This is a very classy all-black look. A black jacket with embellishments like crystal accents and hold charms would make your jacket shine (enhancing your look). Pairing this with amazing tailored pants would keep the look subtle. Tailored pants are not only used for formal outfits. They can look pretty great for hanging out.
Knit midi shirtdress
On days when you feel like wearing something cute and not something related to pants or jeans, a nice black shirt dress would be the best. This dress would give you the stunning look that you want through its style and its color. Black dresses always leave their charm. Pair it with white sneakers and a black leather shoulder bag. This look would talk for itself!
Black satin long dress
A satin material dress fits most elegantly as it slides over your body. For office parties or whenever you are going out, you should opt for this look. Just slide in a black satin dress, accessorize it with beautiful delicate jewelry, and put on some beautiful heels. You would love the outcome of this whole outfit idea.
Indian embroidery black kurta
What is better than ethnic wear? That's right! Nothing. On days when you feel like adding some ethnic touch to your daily style, this kurta would do its work. An embroidery kurta leaves such a delicate and elegant look throughout. Wear it with black jeans and you would have the best look through and through.
If you are looking for a pretty embroidered black kurta, try checking out Ajio and its collection. You can also use Ajio coupon codes free to get discounts on your purchase.
Ethenic plain black saree
Sarees are the best formal ethnic look you can ever try. It is impossible to resist a saree. Therefore, if you ever feel like flaunting a saree at the workplace, go ahead and wrap a plain black saree and accessorize it with some silver jewelry. This would be the best ethnic all-black look you can wear.
If you are looking for a place to order sarees, you can try searching on Amazon. Amazon sarees are very good and at an affordable price for people to buy them and save their money!
Conclusion
Black is a color that is made for any kind of outfit idea. It feels like without the color black, the outfit would be incomplete. Therefore, black can be worn at any function, party, or even during a casual day out. So, go ahead and grab some amazing black outfits to enhance your street style fashion sense. Put on some stylish clothes and make a statement with all the incredible and flaunting all-black outfit ideas that you can follow anytime and anywhere.