10 Amazing things to do in Switzerland
Do you want to escape the scorching heat and pamper yourself in the most magical country? If yes, then Switzerland is the best choice! To make your trip an easy one, here are 10 amazing things to do in Swiss. Don't forget to check out the amazing Switzerland tour packages from India on our website.
Let's take a virtual tour of 10 amazing things to do in Switzerland!
Skydiving in the Alps
Kayaking
Snow Skiing
Cable car ride
Bear talks at The Bear Park
Chocolate / Wine tasting
Hiking in the Alps
Boating in Rhine falls
Shopping
Cruising
All these activities in Switzerland are done with utmost safety and precautions just to make your vacation a memorable one. Do not forget to check out PickYourTrail for the best Switzerland Tour package, offers and deals!
1 Skydiving in the Alps
Image source- pixabay.com
How about starting with one of the most adventurous activities in the world?
Skydiving in the middle of the Alps sounds unimaginable right? But with such experienced skydivers and safety measures, it's actually made-easy for you!
Skydive in Interlaken city, provides the best experience full of adrenaline rush.
You will be travelling on a flight from their airbase to the dropzone which is a 15 minute flight and the actual rush starts now! Witness the beauty of the Alps at an altitude of 13,000 feet for 45 seconds and slowly land on the ground in a parachute that lasts for 6 minutes in the air.
Criteria-
Age – minimum 16
Height – minimum 4 feet (120 cm)
Weight – minimum 40 kgs to maximum 115 kgs
Price- starts from INR 32,160
2 Kayaking in Lake Brienz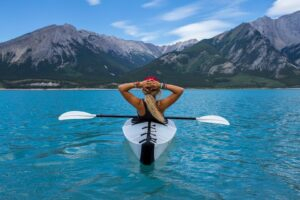 Image source- pixabay.com
Water sports people can never miss this. Kayaking is one of the most thrilling activities in any country. Imagine kayaking in extremely cold waters with the scenic view of the Swiss Alps. Lake Brienz in Interlaken can give you the best experience in kayaking. Escape the bustling cities for a while and enjoy the lake view. Kayaking in Lake Brienz will be a 3 hour trip around the lake with crystal clear waters and the majestic mountains. Do not forget to click plenty of pictures because you're about to do something that will forever be etched in your heart.
Criteria-
Age – minimum 15
Temperature- cold waters ( make sure that you'll endure the chillness)
Duration – 3 hours around the lake
Price – starts from INR 9670
3 Snow Skiing
Image source- pixabay.com
Endless whites and snow canopies! Though this activity needs a little bit of experience, it will top the list for people who love snow skiing. Get to ski in the middle of the Alps. Matterhorn in Zermatt is nothing but a winter paradise in Switzerland. Find yourself in such a location where everything you see is perfectly beautiful in pearl white with soft snow. It is located in one of the mountains in the Alps between Switzerland and Italy. Ski from an altitude of 4000 feet and make use of this luxurious resort to the maximum.
Criteria-
No age limit! Kids can start their skiing activity too!
Tolerate the cold weather
Duration – half a day to 1 day passes / 6 days passes
Price – starts from INR 7496 per day
4 Cable car ride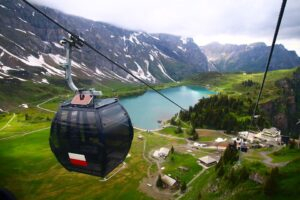 Image source- pixabay.com
Are you tired of roaming all over Switzerland and in need of a break from all the hustling? Got you! Here's what you can do to witness the majestic beauty of the Alps from a height of 1000 metres. Grindelwald-Männlichen Gondola Cableway is said to be one of the longest cable car rides in the world. Located in a village called Grindelwald, the cable car travels to the Männlichen summit. Sometimes doing nothing is doing the most. Ending your Switzerland trip with this beautiful cable car ride will be the best. You will travel in the cable car for about 30 minutes which covers 6 kilometers at an altitude of 2230 metres above the sea level.
Duration- 30-35 minutes
Distance- 6 kilometers
Price – INR 4725
Best time to visit – Summer, spring and winter
5 The Bear Park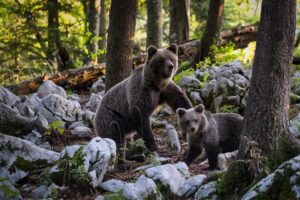 Image source- unsplash.com
Who doesn't love bears? Though they are wild animals, this park in Bern has a Bear park full of brown cuddly bears just for tourists and visitors of Switzerland.
Situated on the banks of Aare river, the bear park is an absolute treat to our eyes.
People can go on a tour around the park watching, talking to the bears. Bern is a calm village which most likely resembles the Journey to the centre of the Earth.
Bear bath is a famous attraction and also don't miss the ancient caves in the park. Cute little bears peeking from every corner of the park can even melt the coldest hearts!
Duration- 3 to 4 hours needed
Age Group – No age limit (target guests- kids)
Best time to visit- Any time of the year
Price-
Kids- INR 489
Adults – INR 815
Family – INR 1956
6 Swiss Chocolate tasting
Image source- pixabay.com
The one thing that excites people of any age group are chocolates. I can see you drooling already! What would your reaction be if you were told to take a tour inside the exhibition of the world's best chocolate brand – Lindt? Melt down with the chocolates in the chocolate world tour as the rich aroma of the bean carries you away. Go on public guided tours, family tickets, couple tickets and individual tickets to get to know the processing, making and packing of chocolates. You can also pay a price and work in the chocolate making process with the professionals!
Best Time- Any time of the year
Price- Adults – INR 1222
Kids – INR 814
Duration- 1 hour to 2 hours
7 Hiking in the Alps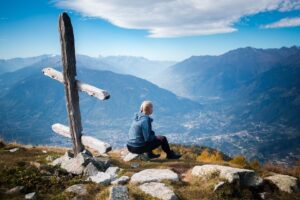 Image source- pixabay.com
Zermatt in Switzerland offers the best hiking experiences. Located at the base of the Swiss Alps, you can hike up to the maximum and test your stamina. Surrounded by mountains, fields, valleys and greenery, Chamonix to Zermatt Trekkers haute route can give you the most picturesque view of the Zermatt city. The trail paths extend upto 15 miles and are completely safe for tourists.
Season – Summer, spring and winter
Price- Free (conditional)
Duration- half day to one day
8 Boating in Rhine falls
Image source- pixabay.com
One of the most adventurous rides on a boat filled with adrenaline rush and freshness is Boating in Rhine falls. Perfectly blue water gushing from the top can make you go awestruck by it's sound and strength. Travel to the centre of the falls and land on a ridge like cave and click the most epic selfies because these memories will last a lifetime. Boating will definitely hold a special place in the Switzerland tour package. Make sure to wear fast dry clothes because there are high chances that you might get drenched in the cold waters splashing in all possible directions.
Entry fee- Free
Boat ride fee- Adults- INR 652
Kids – INR 277
Duration of boat ride- 20 minutes
Best time to visit – Sooner the better!
9 Shopping
Image source – unsplash.com
Any shopping sprees here?? Here's something that excites you the most. A general trivia is that Europe is best known for fashion and brands. Toddlers to seniors, all love to shop. Some of the best places in Switzerland for shopping can be Zermatt , Lucerne, Geneva and many more.
What is famous in Switzerland to buy?
Cuckoo clock
Cheese fondue set
Swiss chocolates
Swiss watches
Victorinox Swiss army knives
Dresses
Types of wines
Bags and wallets
10 Cruising
Image source- pixabay.com
Cruising may not be a casual activity, but if you want to make your Switzerland tour an unforgettable one go on a cruise to enjoy the dazzling view of the city's night lights and the calm oceans. Luxury cruises are available for tourists and the amenities provided by them are uncountable. You will be granted access to swimming pools, bar area, tennis court, laundry, kitchen, fitness centre, parties and shows, spa and what not. You name it, it's already in there.
There are many cruises among which the most famous one is The Enchanting Rhine that travels from Zurich to Amsterdam in 12 days.
Price- ranges from INR 2,50,600 to INR 4,14,000 per person
Duration of journey- depends on the package (generally starts from 1 week to 14 days)