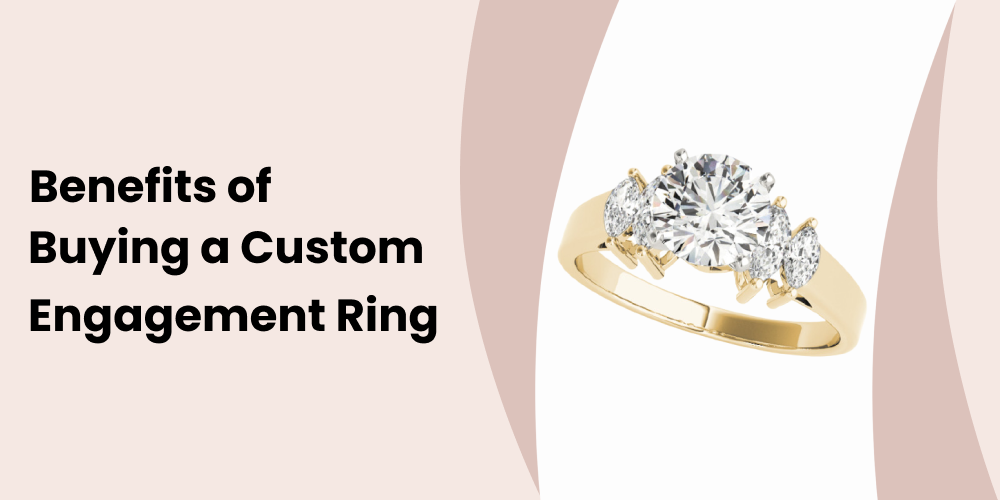 Choosing the perfect engagement ring is a big decision, whether you've been dating your significant other for years or just a few months. After all, diamond engagement rings are a significant financial commitment, and she will be wearing them for the rest of her life. Aside from the money, you can afford to spend on a ring, the appropriate style and design are the two most crucial factors. Yes, you can customize your ring the way you want, that is the reason the craze for custom engagement rings is increasing day by day. Let's see in the article how it works.
A custom engagement ring, at its most basic level, has been created to a customer's exact requirements and is one-of-a-kind. To put it another way, custom engagement rings have never been manufactured before. They don't use a standard ring setting or one that your jeweler usually carries. As a result, any design element or combination of design components can be used in a custom ring. The options are limitless.
Emotions Are Connected
Engagement rings are increasingly representing more than just commitment for a growing number of couples. Rather, different design components can reflect the bride's taste, a preferred motif, or a cultural aspect of the marriage. Custom design engagement rings are usually the greatest option for incorporating these characteristics. Tell the jeweler what you're searching for in this scenario, and provide a picture if possible.
Looking through fashion magazines or admiring famous rings can also help you find the perfect gold engagement ring. While diamond-encrusted celebrity rings are out of reach for most couples, some design aspects may typically be altered to fit your budget. Think about going for a retro look. It's possible that you'd like to use your grandmother's engagement ring because it has a personal meaning for you. Finally, you can use gemstones to create one-of-a-kind engagement rings. Gemstones come in a variety of sizes and can be used in any design. You can also use gemstones in your wedding bands and can match your engagement ring and wedding band.
Include Your Partner
Keep in the mind that you don't have to go it alone. Consider including your partner in the planning process if you and your partner enjoy shopping together. This might be as simple as allowing her to drop hints and then following up, or as complex as showing her the drawings. If you're thinking about custom engagement rings, including your partner is even more vital because you'll have more options. Most people have preferred jewels, and some are particularly fond of diamond rings.
You Can Go For Timeless Designs
Of all, with so many diamond engagement ring styles available, it's easy to become overwhelmed by your options. To begin, you should be aware that round diamonds continue to be the most popular choice, even in unique designs. This shape is ageless and lends itself to nearly limitless design options. One can be placed into a ring with her birthstone someplace else in the design. Consider a setting that is genuinely one-of-a-kind, such as one shaped like her favorite flower.
Is your partner bored by the majority of diamond engagement ring designs? Or, for that matter, too modern? Consider creating a unique design that incorporates the finest of her favorite designs. You may prefer the halo on one ring but not the shank on another. At Finer Jewelry, we can also make a bespoke order if there's something she truly likes that isn't available in your metal of choice.
Custom Is The Best Option
Even the most exquisite handmade engagement rings aren't for everyone. Some consumers would benefit from choosing a pre-made ring or purchasing a setting and diamond that would be assembled. These options are much more immediately available, but they are less flexible. With that in mind, there are a few instances where going custom is the best option.
Time-Consuming But Worth It
A custom engagement ring takes much longer to make because it is created from the ground up. Your jeweler must first consult with you before designing the ring on a computer. You'll get photos of the design as a result of this. This may take more than one attempt, depending on your specifications. The jeweler will offer you a pricing quote once you've decided it's ideal. After that, they might use 3D printing technology to create a ring mold.
Once you've accepted the design, this mold is used to create your ring setting in the metal of your choice. From here, a lot of polishing is required to get the desired mirror finish. Finally, gemologists will place each stone in its appropriate setting. Keep in mind that the center stone must be chosen by hand. We consult with you at every step, which is why the ring takes so long to make.
Depicts Your Story
For some folks, a bespoke design is the only way to truly convey their love. After all, isn't your girlfriend one-of-a-kind? But there's more to it occasionally. You can create a look by ordering custom engagement rings online that you wouldn't be able to achieve otherwise. Plus, you'll be able to brag about how we designed it for you. This can be quite valuable depending on your relationship.
A surprising proportion of couples have a one-of-a-kind diamond or gemstone that would make an ideal engagement ring. There's a good probability that the form of this diamond is slightly uneven, especially if it's a vintage diamond. This makes setting the diamond into a ring tricky, thus custom-made engagement rings are the way to go.
Final Words
Custom engagement rings have the added benefit of being able to buy matching wedding bands. Or maybe not. You can go either way depending on what you want, both aesthetically and functionally. However, certain designs may not be able to stand alone. Between those rings, you may always incorporate the entire aesthetic. Furthermore, a standard ring may not fit your personalized ring. During the design process, we propose that you explore this option with the gemologist.