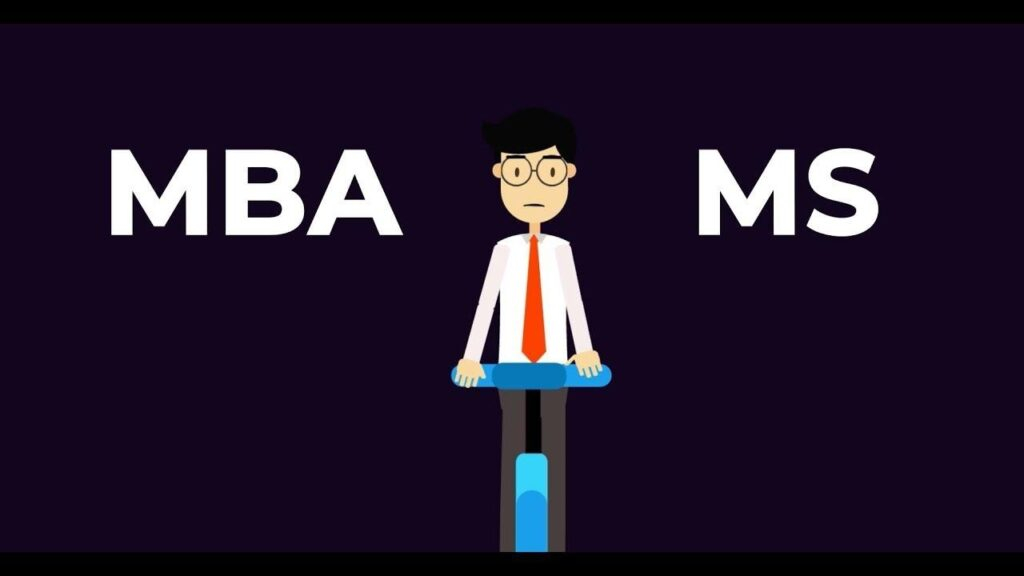 Selecting the appropriate graduate program can be a difficult task. It's natural to want to know how your selections might fit with your goals whenever you make a new time and financial commitment. Both an MBA and a Master of Science (MS) degree can provide a comprehensive business education; however, an MBA will provide a more wide, interdepartmental picture, whilst an MS will provide a more nuanced understanding of a particular area of business.
Consider your personal business goals to help you decide whether an MBA or MS is best for you. You should ask certain questions like what kind of job do you want to have? Or what are some of your favorite job responsibilities? what kind of work environment do you prefer and so on. As we go over the differences—and similarities—between MBA and MS degrees, keep that ideal picture in mind. Let's begin with what is MBA degree is.
What is an MBA degree?
A Master of Business Administration (MBA) is a degree in business administration. It's an advanced degree that focuses on business leadership and management skills at a high level.
Coursework for a typical MBA
MBA programs range widely from one school to the next, but they usually include a mix of core and elective courses. MBA programs will study a variety of foundational business concepts as part of the core curriculum, including:
Management
Strategy
Finance
Marketing
Ethics
Communications
Elective courses and specialties provide students with the chance to delve further into certain topics of interest. The following are some possible MBA concentrations:
Accounting
Business analytics
Entrepreneurship
Health care management
MBA salary and job prospects
An MBA degree can prepare you for senior and executive-level roles in a variety of industries, as well as leadership positions that manage many divisions, thanks to this broad education. After a few years in the job, many students pursue an MBA degree in order to further advance their careers.
MBA candidates can choose between full-time and part-time programs, allowing them to work while attending school. An MBA can take anywhere from one to three years to complete, depending on the program. Management consulting businesses such as Bain, BCG, and AT Kearney, as well as IT giants such as Amazon, Google, and Microsoft, and accountancy firms such as EY and Deloitte, are among the corporations that hire the most MBA Student.
The typical basic starting salary of an MBA recipient in the United States was estimated to be $115,000 (excluding signing bonuses and benefits), though this amount might vary significantly based on the business school attended. Now let's look at what an MS degree is.
What is an MS degree?
A Master of Science degree, usually known as an MSc, is a graduate degree in science. MS degrees might concentrate on specific scientific fields such as biology, engineering, or statistics, or they can imply a scientific approach to social sciences such as psychology and economics. Business master's degrees are more likely to support the latter interpretation. These degrees usually provide in-depth understanding in a certain field of business, such as:
Finance
Data analytics
Accounting
International management
Marketing
Project management
Typical MS coursework
MS programs, like MBA programs, differ per school. Although MS business programs may include some core information from various business sectors, the majority of the coursework will focus on your selected field, thereby making MS graduates experts in their chosen subject.
Full-time and part-time enrollment options may be available depending on the program, and an MS in business usually takes one to two years to complete.
MS salary and job prospects
This program prepares students for specialized careers in their subject of interest. It might be the beginning of a career change or a step higher in a specific field. Prospective MS students do not need to have worked in the industry before enrolling.
Starting salaries for MS students differ depending on their fields of study. The estimated median base starting income (without signing bonuses and benefits) of an MS recipient in the US ranged from $75,000 (Accounting) to $85,000 (Information Technology, Finance, and Data Analytics).
How to decide between- MBA and MS?
Consider your job goals when considering if an MBA or MS is right for you. If you see yourself as a future boss of a large corporation, MBA programs may be of interest to you. If, on the other hand, you picture yourself rising to the top of a certain team within a business, an MS program that fits with your future team might be worth considering.
While researching MBA and MS programs, you might want to reach out to friends and coworkers who have earned advanced degrees in business or contact admissions counselors at the institution of your choice with any queries.
In either case, both MBA and MS degrees can be excellent ways to lay a firm basis for your business career. Ultimately, deciding which one is best for you boils down to your individual objectives.
MBA vs MS: Which offers a higher Return on Investment?
MBA and MS degrees both pave the way to a greater wage, improved professional possibilities, and the ability to relocate. If you're already employed, you should factor in the opportunity cost of pursuing either. The opportunity cost covers both the loss of income while studying and the expense of returning to school. 3-5 years after graduation, MBA programs have proved to provide a significant return on investment.
Need-based and merit-based scholarships are also available at business schools, easing the financial strain of studying abroad. Students received more than $230 million in scholarships from the top 25 business schools in the United States.