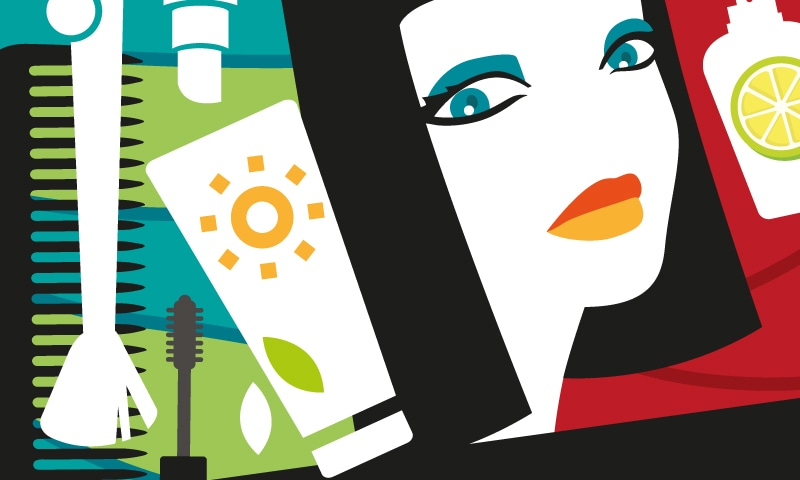 Nowadays, most businesses have got into the e-commerce sector, and so does the online cosmetics business. With prominence given to self-care, wellness, and skincare, the online cosmetic business is becoming a big online business all over the globe. People like spending on beauty products to achieve their beauty goals via online shopping in Pakistan. However, there are a lot of old-school entrepreneurs who consider the internet world an unreliable platform for brick-and-mortar operation because of data security problems. Therefore, here are some reasons that can convince you to scale the online cosmetics business to increase your sale.
·        Easy to the target audience
Digital marketing becomes the most reliable and effective way of branding, in which niche marketing works the best for the online original branded makeup shopping in Pakistan. Since people have so much access to the internet, it becomes easy for buyers to find and target a specific niche. For instance, if you are dealing with a line of organic skincare products, the target market helps you reach the expectant customers online. People who like spending on makeup, skincare, or beauty products cannot resist buying trending products from an online marketplace. Therefore, Facebook and Instagram play a significant role in it, as they allow businesses to reach customers' wall feed directly. You can find the target audience through analyzing the customer base, conducting market research, analyzing your competitors, and identifying beauty industry trends. This approach helps you increase your sale by generating leads directly from social media platforms.
·        Personalized customer experience
If you are running an online cosmetics business, you should try to provide tailored customer service. It helps your customers to build trust in your brand for buying any online beauty product. Since customers cannot try and test cosmetics products online before purchase, you can only satisfy them through personalized online consultation. This method of bespoke service attracts many customers to approach for finding out what they need. Customers can confidently contact the online shop to find and buy what they need with no hassle. The pro tip is to guide customers for product use and skin suitability to improve the customer experience.
·        Easy to showcase products
The best thing about an online cosmetics business is its ease in showcasing all products. Whether you have an online website or an Instagram business page, you can display your entire inventory under one umbrella. Visitors and seekers find it convenient to scroll down and find the required product without visiting any physical store. In addition to displaying a wide range of products, you can also provide all information about every product, such as product picture, before and after result, ingredients, directions of use, etc. It will help customers find a product with the requisite guidance for a satisfactory customer experience. It can also help you gain new buyers because it adds a sense of confidence in customers for buying any beauty products from your business platform.
·        Convenient for regular customers
You might have gained numerous loyal customers in your beauty store. However, some of them might find it distant to reach your store to buy your product. So, you have to shrink this distance because there is always a possibility to find a similar product from a nearby shop. Scaling the online cosmetic business is the best option for you to keep your regular customers loyal and happy with you. No matter where your loyal customers reside, they can access your deals, discounts, trendy products, and sales through the internet. They can easily explore your makeup, skincare, and beauty product listed online to buy their required product without driving far. It helps them to get their online order right to their doorstep with great satisfaction and convenience.
·        Compete for the Global Market
If you want to expand your online cosmetics business to a global level, the eCommerce website will help you thrive globally. People all around the globe can become potential buyers of your product by getting stimulated by your online presence. So, you only need to work on your online presence while enabling your international shipping and delivery service. Once your business becomes internationally known, no one can stop your brand's name from thriving in an online marketplace. Many local brands have used the same approach to become renowned brands across the globe.
·        Expand online to gain new buyers:
The online presence of your brand or business helps a lot to gain new buyers. You only need to promote your popular beauty products on various social media platforms to make people remember you as a reliable shop. Create social media accounts, start posting about your hot seller products, and build the community of the most targeted audience. If you link back your published content to your websites, it will help to generate the leads. You can also use sales and marketing channels to target new buyers who might show interest in your products. Nowadays, even big brands have built the conjunction with social media and eCommerce sites for effective digital marketing.
·        Smart Business Venture:
In the beauty industry, the online cosmetics business becomes the smart business venture for having high markups. The manufacturer of the cosmetics products bears a low cost on manufacturing, but they can sell them at a significantly higher price. Therefore, manufacturers are now turning towards selling their beauty products online to flourish their brand. They only require the right marketing strategies, some handwork, and a substantial online presence. The benefits of this business venture are all of the above.
Hope! We convince you to bring your cosmetic business to the online marketplace. These benefits will lead you to get success in a digitally progressing world. So, do not get demotivated after economic downturn due to COVID-19. Bring your business to the digital world to keep your business flourishing irrespective of lockdowns.