Silk sarees from India are renowned for their glossy beauty and unrivaled range of designs and hues. Most Indian brides wear these sarees as part of their traditional bridal attire. Traditional south Indian sarees woven of pure silk are renowned for their aesthetic beauty and splendor around the world.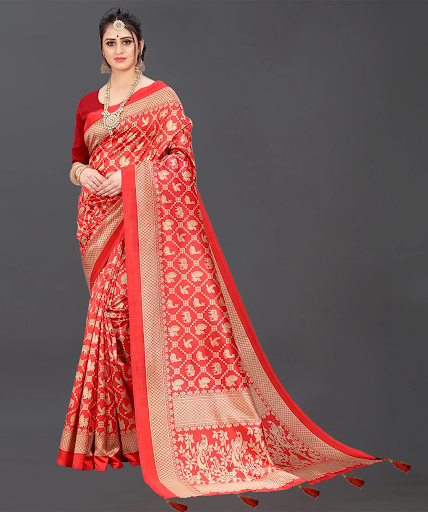 1. Silk Sarees from Assam
Because of silk sarees delicate and lightweight nature, every lady wants to have an Assam Silk Saree in her collection.
Its silk has always been popular, dating back to ancient times. Its silk is manufactured in Assam and is divided into three categories: golden Muga, white pat/part, and warm Eri silk. Assam's silk industry, which is presently based in Sualkuchi, is labor-intensive. The traditional Assam Silk Saree is entirely weaved by hand.
It will take more than a month to finish. The cost of an Assam Silk Saree is less than that of a Patola or Kanjivaram silk saree.
a. Silk Muga saree
The Antheraea assam silkworm feed aromatic plant in Assam produces lustrous glossy golden color silk, which is used to make the Muga Silk Saree. Its brilliance improves with each wash. Muga silk is colored first, then bleached. Muga silk is now woven into lovely, beautifully designed traditional Assamese women's clothing.
b. Pat/Paat Silk Saree from Assam
Bobby text or silkworms, which live on mulberry leaves, produce pat silk. It is typically bright white or off-white in color. It's light and airy with a delicate texture, and it's long-lasting. The border of the saree is woven with brilliant colors and traditional motifs such as flowers, human figures, animals, and so on. It complements the Assamese bride well.
C. Assam Eri Silk Saree 
Eri silk is made by the ailanthus silkmoth, which feeds on the castor oil plant's leaves. It is commonly referred to as "poor man's silk" because it is non-violent. This silk saree from Assam has a rough texture and is less glossy than the other two silk sarees from the state.
2. Silk Art Sarees
Artificial silk, often known as art silk or bamboo silk, is made from a synthetic fabric that resembles silk. Rayon is simply a term for artificial silk. Art Silk Sarees are usually less expensive than other Silk Sarees.
The earliest artificial silks were made from cellulose fiber in the 1890s and were known as art silk or viscose on the market. Nylon, polyester, rayon, and other synthetic fibers are examples of artificial silk. For further information, see the image below. How do you like the Art Silk Saree?
In a short period of time, Art Silk became a popular industrial fiber, permanently replacing silk in many sectors. As a result, all demographics can simply purchase the latest art silk designer sarees.
Although it is different from pure silk, it is more slippery than others. If you wish to tell the difference between the two, rub the pile in your palm, burn a small bit of the fringe to smell the ash or smoke, or dissolve the pile using a chemical test.
It is not possible to weave an art silk saree by hand; instead, it is manufactured in a machine. Art Silk Sarees are commonly available online these days, and they start at a cheap price of Rs 1000. You can see Art Silk Saree's new arrivals or Art Silk Sarees with prices by clicking the image above.
3. Silk saree from Banarasi
Silk saree from banarasi is a symbol of wealth and refinement. It's a common component of an Indian bride's attire. Goldwork, compact weaving, figures with microscopic details, metallic visual effects, pallus, jal, and mina work are all elements of the Banarasi silk saree.
Varanasi Banarasi Silk Sarees are in high demand for Indian weddings. It comes from Varanasi, which is also known as Benares or Banaras. The pure elegance of a Banarasi silk saree is enough to win the bride's heart. Traditional Banarasi sarees are made with silk with gold and silver brocade or zari and require a lot of hard labor and talent. Always handmade and intricate Banarasi silk sarees with interwoven floral and foliate designs, kalga and bel, and a string of upright leaves known as jhallar at the outer edge.
Depending on the Banarasi silk saree pattern, it might take anything from 15 days to a month, and even up to six months to finish. Pure silk (Katan), Organza (Kora) with Zari and silk, Georgette, and Shatter are the four basic variations, and they are divided into Jangla, Tanchoi, Vaskat, Cutwork, Tissue, and Butidar according to the Banarasi silk saree design process. Banarasi Silk Saree Price/Cost ranges from Rs 20,000 to Rs 2,000,000 for the Banarasi Silk Saree bridal collection.
Baluchari Silk Sarees
Baluchari Silk Saris are from a little village called Baluchar in the Murshidabad district of Bengal, which is now known as Bishnupur. Among 34 National Awards for 2009 and 2010, the Baluchari silk sari was one of the award winners for the primary weaving styles.
The mythical scenes on the pallu of a Baluchari Silk Saree are well-known. We commonly see scenes from Mahabharat and Ramayana today. One of these sarees takes around a week to finish. Pallu was made in the square design of paisley motifs during the time of the Nawabs and Britishers, depicting scenes from the lives of the Nawab of Bengal, including Hookah-smoking women, nawabs on horse carriages, and even European East India Company officers. The saree is made from the cocoon of a silkworm. Baluchari Silk Saree is unique in that it is polished after weaving. The price of a Baluchari Silk Saree ranges from Rs 20,000 to Rs 2,000,000. To buy a Baluchari Silk Saree online, click here.
5. Silk Sarees from Bomkai
Bomkai Silk Sarees are made in Odisha or Orissa's Bomkai, Ganjam region. Sonepuri Sari is another name for it. Handloom silk sarees are a popular item that can be seen in a variety of fashion displays. In the past, Bomkai silk sarees with enticing hues and fish motifs weave were visible in the sari, since it was thought to be a sign of prosperity and affluence.
It now comes in a contemporary design with a traditional tinge at the border and pallu area. For a better understanding of the design, look at the photographs of Bomkai Silk Sarees above. The cost of a Bomkai Silk Saree ranges from Rs 10,000 to Rs 50,000. During her wedding day, Ashwariya Rai Bachhan wore a "Radhakunja" bomkai designed by Chaturbhuj Meher of Sonepur.