(1) Print on one line at 10 cpi
Speed ​​without sacrificing quality:
Ideal for low to medium speed lines:

Maximum single line printing speed 162 m / min.

The maximum speed of double-line printing is 59 m / min.

The maximum speed of three-line printing is 29 m / min.

Store up to 100 complex messages for quick recall. Store even more messages with a regular USB stick
Due to its small size, the Videojet 1220 printer can be easily transferred from one line to another.
Designed for stable line performance:
Advanced Ink Module Design Videojet ink system filters and wear parts are combined in a single housing, which can be replaced in around 30 minutes.
Preventive maintenance interval up to 9000 hours
Auto head flush for fast start-up even after extended periods of inactivity
Optional internal air pump eliminates the need for external air and minimizes the chance of ink contamination
Ease of use with standard Videojet inkjet interface:
Bright display with full text visualization and function keys for easy operation
User access levels allow separation of operation from installation and maintenance
Custom Prompted Fields Help Reduce Errors
Continuous inkjet printers: Videojet 1220 inkjet printer
Description
The printer meets the needs of the simplest labeling: batch number, date, in food and chemical industries, in the production of personal care products or cosmetics
Print speed / Productivity
– Prints up to 3 lines at speeds up to 162 m / min
– USB connection for loading logos and saving messages as standard;
– The ink module of the system is designed for 6000 hours of operation;
– The use of cartridges avoids contamination, losses and operator errors;
High protection class
– IP55 for protection against dust and moisture
Print Speed ​​/ Productivity
Prints 1 to 3 lines of text at speeds up to 162.5 m / min, 10 CPI on one line.
Configuration of printing matrices.
1 line: 5 × 5, 5 × 7, 7 × 9, 11 × 16, 17 × 24
2 lines: 5 × 5, 5 × 7, 7 × 9
3 lines: 5 × 5, 5 × 7
Character height
From 2 mm to 8.5 mm, depending on the print matrix.
Data interface
Connector via RS232, RS 485, and Ethernet (standard)
РЕКЛАМА
s-ols.co
Storing text messages Up to 100 complex messages. Unlimited when using USB.
…
Consumable
Bottles Smart Cartridge ™ Ink Cartridge – 750ml
Smart Solvent Cartridge ™ –
750ml Body Dimensions
541mm (21.3 ") Height
345mm (13.6″) Width
285mm (11.2 ") Depth
Print head
The print head heating the ink
and air supply (standard)
diameter: 41.3 mm (1.63 ") length: 240.5 mm (9.47")
Operating temperature and humidity
5 ° C to 45 ° C (41 ° F to 113 ° F)
0% to 90% RH, non-condensing
Reviews
There are yet no reviews for this product.
Videojet inkjet coders
The inkjet technology, ideal for marking flat and curved surfaces, uses a non-contact printing method. This technology allows marking with a variety of inkjet inks on virtually any material. Delivery of equipment is available in Moscow and Russia. You can order by phone 8 800 234-33-04!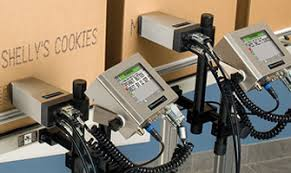 Why do hundreds of Russian companies choose Videojet equipment:
Offices and warehouses in all major cities of the Russian Federation
Average work experience of engineers in the company is 9 years
Innovative developments adapted to the Russian market
Integration of coders with 90% of lines
Intuitive printer interface and easy maintenance
Service intervals up to 9000 hours
Which coder is right for your company?
For your convenience, we have divided our inkjet coders into four key categories – low speed, medium and high speed, as well as special purpose coders.
Thus, we try to satisfy the need for labeling from the smallest industries to large multi-site companies.
What are ink jet coders for?
Example of ink jet marking on a glass jar of animal feed
Reliable and versatile, Videojet inkjet coders apply text and graphics to products across a wide range of industries. Marking is carried out on any flat and uneven surfaces: glass and metal, paper and plastic, wood and other materials. Marking equipment can be easily integrated into production lines.
The new Videojet inkjet printer series is the guarantee of efficiency and profitability in any production process. Free selection here by phone 8-800-234-33-04! Delivery across Moscow and Russia. The redesigned printer, with automatic flushing, system settings, and routine maintenance, maximizes productivity and extends life. Ink jet marking can be applied in multiple lines. In addition, the new generation of inkjet coders is equipped with Code Assurance, which reduces rejects and eliminates the main causes of device downtime. You can order a free selection of a calendered printer for solving your problems by phone:
РЕКЛАМА
Key benefits of Videojet inkjet coders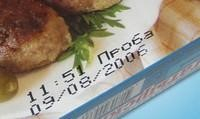 Inkjet labeling for frozen semi-finished products
The main advantages of ink jet coders are ease of use, no flushing when stopping and starting, no loss of ink, lightweight interface and text editor, and a high degree of operability.
Benefits in print quality: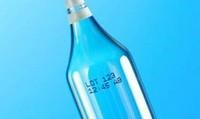 Example of stamping with a date on an ampoule
Advanced ink drop shaping and placement technology delivers best-in-class print quality. An advanced printhead design with automatic setup, calibration, and alignment ensures reliable printer operation without operator intervention.
Dynamic Calibration ™ automatically adjusts the optimal ink viscosity as temperature changes to ensure consistent print quality.
Service Benefits:
Car oil canister marking
The use of innovative technologies in the Videojet 1000 Series printers can significantly increase the intervals between scheduled maintenance, thanks to the unique design of the ink module:
All components of the ink module are its integral part with a single service life
No filter replacement required
Longer maintenance intervals compared to other printers
Alert the operator to replace the ink module
Dedicated ink module for using pigmented inks for high contrast markings (Videojet 1710 only).
Efficient use of consumables with an ink jet coder
The equipment applies high-quality markings in blue, yellow and other colors
The Smart Cartridge ™ ink supply system completely eliminates the possibility of spillage of consumables and ensures that the entire amount of ink in the printer is used:
The delivery system is designed to fully utilize the entire volume of the cartridge
Wide range of inks and solvents available
By reading information from the built-in microchip of the cartridge, the printer determines the compatibility of the consumables used and the printer
Economical consumption of ink and solvent reduces production costs
No spillage of consumables due to tight connection between needle valve and diaphragm
Comparison of inkjet printers
Videojet printers last long
Videojet small character inkjet coders are divided into:
high speed, UHS series
for large industries and round-the-clock work (1620, 1650)
for industries with an average load for round-the-clock work (1520, 1550)
for small industries and work in one or two shifts (1220)
pigment printers (1710).
In Videojet you can order a free selection of an inkjet coder or choose it yourself from the catalog. We deliver all over Russia. Convenient service. Service support in the Russian Federation. Place an order for an inkjet printer online by filling out the form, or by calling 8 800 234-33-04!
Among the models of Videojet inkjet coders there are models with a touch screen, where all basic operations are performed with a few touches.
The company is constantly developing ways to improve the reliability of ink jet equipment, creating new solutions for marking with increased efficiency.
Industrial coders Videojet
drop-jet
lasers
thermal transfer
thermojet
Our global network of representatives supports our customers without interruption. In Russia, our offices are located in major large cities – from Kaliningrad to Vladivostok.
More than 325,000 Videojet industrial printers are installed in 26 countries around the world. More than 4,000 qualified personnel enables our company to manufacture and sell marking equipment while maintaining a high return rate.
The Videojet website features markers of different technologies and you can get a free consultation on each of them. Videojet guarantees fast delivery across the Russian Federation and offers coder installation solutions for all lines. Place your order on the Videojet website or call: 8 800 234-33-04!
Types of marking technologies:
The most demanded is ink jet technology. With its help, variable information is applied: expiration date, release date, composition, batch number and other data. Continuous inkjet devices apply information to any surface. This type of printing is the most common.
Videojet inkjet coders offer many benefits:
easy maintenance
long intervals between maintenance
error protection system Code Assurance
simple and intuitive interface
Another popular type of marking technology is laser coders. In some applications, they become indispensable. The advantages of laser marking equipment:
high print speed
versatility
easy task change
consumables are not needed
environmental friendliness
minimum service
suitable for almost all surfaces
uninterrupted operation up to 35,000 hours
We cannot ignore thermal transfer printers. These devices are an integral part of packaging lines because they are built right into them. Printing is applied to flexible materials – HDPE, VPH, foil. Thermal transfer solutions allow significant savings due to the abandonment of a large number of packaging materials and the transition to unified packaging.
New Design Videojet 1220 Industrial Inkjet Printer
Auto Batch Date Number Inkjet Printer
1. Print area: 1-4 lines
2. Dust-proof print head
3. Automatic flushing of the print head
4. Low ink consumption
5. Date and time stamp
Product description:
E350 stencil technology is widely used in beverage, food, wine, medicine, building materials, cosmetics, chemical,
cosmetic, tobacco, wire and cable and electronic components industries, suitable for plastic, rubber, metal, paper,
wood products, glass products and others Materials can be received in any direction for irregularly shaped products for printing.
Automatic Lot Date Number Inkjet Printer Suitable for printing on:
Plastic Bag, Bottle, Tin Can, CArton Box, Plastic, Metal, Wood, Pipe, Wire, Rubber Hose, etc.
– Flagship style CIJ printer,
-Multi-tasking system, printing and editing at the same time,
-There is language alarm and self-monitoring function,
-Main Units-International Famous Brand,
-With excellent stability.
Peculiarities
For ink inkjet printer E350
All About Videojet Continuous Inkjet Printers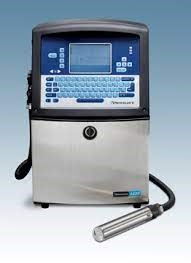 Get a commercial offer for your labeling tasks.
We will make samples of marking of your goods free of charge.
Find all the answers to your Videojet inkjet questions on this page. A free inkjet printer selection is available on Videojet. Hotline for Videojet 8 800 234-33-04 inkjet printers!
What does ink jet marking mean?
Continuous inkjet or CIJ is short for Continuous inkjet. This printer creates a stream of small ink droplets and selects some of these droplets to print characters on the product. Unused droplets are returned to the printer to become part of the ink jet again.
How does it work?
Continuous inkjet printers charge individual drops of ink to print a message. Each drop with its own charge passes through the magnetic field created in the print head. The angle of deflection of the drop in this field depends on the amount of charge in the drop. The droplets with the largest deflection angle create the top line of the mark or become the top in a single line of mark. Slightly deviated droplets create lower lines of markings or become lower in a single line character. Uncharged drops are not deflected. They settle inside the print head and return to the ink supply system.
What products are recommended for labeling?
Continuous inkjet printers can be used to mark paper, plastic, metal, glass and other materials. Typical applications include labeling dairy containers, beverage cans, pharmaceuticals, small cartons, cables and small components.
How is it different from contact markers?
Continuous inkjet printers do not touch the product to be labeled at all. Continuous inkjet printers spray ink in the air, one drop at a time, so that when the product passes next to the printer, the markings programmed in the printer are printed on it. The typical distance between the product and the printhead of a printer is 4mm.
What's the difference between printing technologies?
The difference between inkjet printing and on-demand printing is that inkjet printers constantly circulate ink inside the printer from the ink supply system through the printhead and back to the ink supply system. On-demand printing technology supplies ink only when the printer is printing.
What is the difference from large-character marking?
Large character coding technology is sometimes also called print-on-demand technology. Large character coders are typically used for secondary packaging where larger print is required. For inkjet printers, font sizes are typically between 0.3 and 1.3 cm, and large characters can be over 5 cm in height.
How far can they be from the product to be labeled?
For most Videojet inkjet printers, the recommended distance between the end of the print head and the product is approximately 4 mm. If the distance from the print head to the product is less than 4 mm, the markings become shallower and the print drops are closer together. If the distance from the print head to the product is more than 4 mm, the height of the characters increases and the droplets fall with less precision.