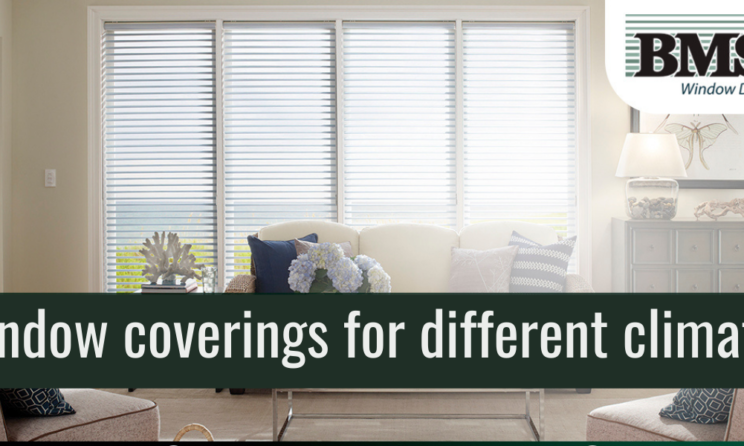 Installing blinds and shades on your windows is one of the most effective ways to insulate your home and make it more energy-efficient. However, what works for a home in a rainy climate may not work for a home in a dry climate. Thus it is suggested you buy shades, shutters, and blinds that suit your needs and desires. And the best part is that at BMSDecor, you can buy blinds, shades, and shutters online.
Any window covering is better than no window covering when it comes to insulating your home and protecting your furniture and family's privacy. However, maximizing the effectiveness of your blinds and shades by picking ones that are suited to your area's climate can go a long way toward making your home more energy-efficient.
Check out the list below for the best window treatments for various climates:
Cold and rainy
Rainfall and snowfall are expected in various areas. In the winter, windows in these areas can be a significant source of heat loss. We suggest you heavy blinds and shades as it provides maximum insulation and keeps warm air in and cold air out during the fall, winter, and early spring.
Window treatment for this climate:
Roman Shutters: Roman shades are thick and heavy like a winter coat. Like your favourite winter clothing, these window treatments are designed to keep cold air out and draughts out. Our Premium Roman shades are divided into four categories: A, B, C, and D, each with dozens of colour options. These shades are the ultimate in keeping your home protected from the harsh elements outside when combined with energy-efficient or newly insulated windows.
Wood blinds: Wood blinds are the finishing touch on a rustic cabin nestled styled home. Our real wood blinds are made from basswood. Real wood blinds insulate homes and act as barriers between your living room, bedroom, or office and the cold, rainy draughts outside.
Sunny and Rainy
Due to the amount of moisture in various areas, some window treatments can fade, warp, or even mildew over time, especially if they're exposed to the elements through open windows or doors.
These window treatments are made to withstand the sun's harmful rays as well as the effects of high humidity:
Faux wood blinds: Synthetic materials, such as vinyl and compound materials, are used to make faux wood blinds. Natural wood is prone to warping and discolouration due to constant sunlight exposure and humidity. Still, faux wood was explicitly used in humid environments such as bathrooms, kitchens, and garages. Even in the wettest and sunniest climates, these blinds will provide you with peace of mind
Aluminum blinds: Want blinds that are simple to maintain, fade-resistant, and long-lasting? If that's the case, our aluminum blinds are an excellent choice. They thrive in even the harshest conditions and work well in virtually any climate. Aluminum blinds are ideal for warm and humid climates because they are highly effective at blocking out light and protecting your privacy.
Dry and Sunny:
Homeowners in warm, dry, and sunny climates have a wide range of options from which to choose. Many people in these areas have expressed a desire to reduce the amount of heat that enters their windows, eliminate harsh glares, and reduce the effects of UV rays.
Window Treatments for this climate:
Sun Shades: Many homeowners want to reduce the warming effect of sunlight, and the damage UV rays can cause to their furniture and even their skin. The solar shades are made of high-quality fabrics, which are highly durable and reduce heat and glare while maintaining your view of the outdoors. They're also made to reduce the intensity of UV rays, extending the life of your furniture and preventing fading of fabric, wood, and other materials.
Light Shades: If solar shades aren't a good fit for your home, but you still want to make the most of natural light in your living room, bedroom, or dining room, sheer shades are a great alternative. Fabric vanes float between soft, knitted fabric sheers in these window coverings, a mix of shades and blinds. Raise the vanes to create soft, diffused, and filtered light in your home with 99 per cent fewer UV rays than direct sunlight.
If you want to buy shades, shutters, and blinds, visit us now at BMSDecor. We offer top-class quality blinds, shades, and shutters online and at the best prices.