E-commerce will continue to grow
E-commerce is the most popular online activity and is growing exponentially. Online sales are expect to reach $4.5 billion in 2021.
This popularity is due to the ease and convenience of online shopping, which is driving more people to shop less in malls and more online. In addition, increasing consumer confidence in online shopping is further boosting sales.
Setting up an online store is also becoming easier.
Today's websites are easier to use and offer customers a better online shopping experience. Online shopping processes have also improved, making it easy for customers to find and select the items they want and pay for them using a variety of payment methods. This is undoubtedly one of the most important e-commerce trends for 2021.
Packaging is important
Customers appreciate that packaging is part of the brand itself. The better the packaging looks, the more likely they are to buy it. Moreover, most consumers are interest in products with unique packaging. Therefore, it is obvious that online sellers customize the packaging of their products. This way, your product can stand out from others.
Some keys to making your brand's packaging unique: highlight the durability and beauty of the packaging, and even tell customers that it is environmentally friendly. Doing so will help build the brand.
Increase in purchases via mobile devices
Another notable trend in e-commerce is the increase in mobile shopping. It is expect that mobile commerce sales will increase by 15% by the end of 2021. Moreover, 73% of all e-commerce sales are made via mobile.
To better understand mobile shopping revenue growth, it's important to look at how mobile devices have evolved over the past year. Mobile devices have flooded the market, leading to an increase in the number of users of these devices. In addition, mobile users are using their devices not only to make purchases, but also to learn about products before deciding to buy them. Because of the convenience they offer when shopping, consumers have also developed the ability to use them.
Personalization
Personalized customer interaction has become an integral part of sales. This trend has become a staple for e-commerce businesses as it enhances the customer experience.
However, there are many ways to take advantage of personalization in multichannel sales.
Doing so ensures that individual customers have the same personalized brand experience regardless of the channel they use. It also ensures that you only provide relevant information to the customer and don't have to pester them with information.
Understanding digital marketing BTODigital
The best payment processing agency
Payment processing is part of every customer's journey and plays a key role in the conversion process. This is because customers can decide to cancel a purchase even at the last minute.
So, it doesn't matter if you have persuaded a potential customer to make a purchase. If the customer finds your checkout process cumbersome or feels unsure about the purchase, a potential conversion can still be rule out. Most small brands are starting to take advantage of small business ecommerce software that allows them to process payments in a variety of ways.
Shopping cart abandonment really does exist, and one of the most common reasons for it is a complicated checkout process. If you want to make your online store more competitive, you should implement a simple checkout process with easy payment options.
For global businesses, it is advisable to offer local payment options and integrate all payments into one platform.
Don't miss this content: comparing payment gateways in Colombia to complement your research on e-commerce trends.
Omni channel Sales
Now is the time to embrace multi-channel selling. Why? Consumers have been shopping at various online sellers, including Amazon, brand stores, eBay, home improvement stores and Facebook.
This trend is inevitable as e-commerce companies will inevitably grow, and with that growth comes the need to consolidate inventory. The push for new marketplaces by online marketers will also drive growth as they seek new channels to reach new audiences. And with the presence of a large marketplace comes the opportunity to increase sales.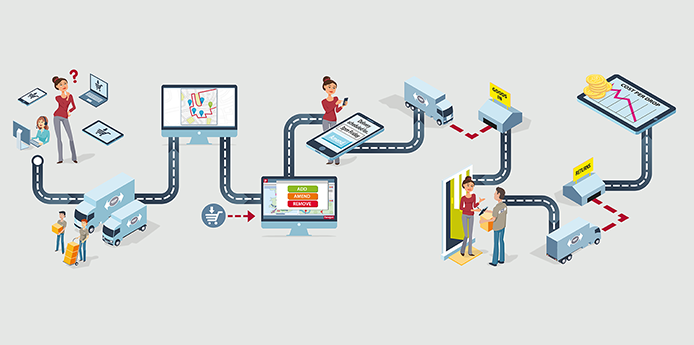 Buying by voice
Voice shopping has exploded in the U.S. and will continue to grow in the coming years. Proof of this is the fact that since 2017, owners of smart speakers have admitted to shopping via voice. Voice purchases are expect to increase by 55% by 2022. The growth in voice purchases is due to the launch of Amazon's smart speaker, the Echo.
However, for some people, voice shopping can be a bit of a hassle. With this channel, there is no picture of the customer describing the product they want to buy. Popular products purchased through this method include inexpensive household items, groceries and electronics. Online marketers should take this trend into account and work to provide customers with the convenience they need when shopping by voice.
Green sales
Being friendly to the environment is expect to influence online sales. Brands are expect to ride the wave of green consumption, with many consumers acknowledging that they are influence by environmental factors when making purchase decisions.
The renewed focus on environmental sustainability clearly demonstrates the need for online marketers to increase their focus on environmentally friendly practices. Companies can do this by creating a greener online sales environment by only purchasing products from fair trade organizations.
Another factor driving green consumerism is the emergence of millennials as a powerful group of buyers. Members of this generation are interest in products that respect the environment. This demand for eco-friendly products is driving e-commerce companies to adopt a more respectful approach.
Shopping on social networks
Social media has become a marketing tool that allows brands to expand their audience. Platforms such as Instagram and Facebook have been equip with "buy buttons" that allow retailers to sell through them.
Online stores have also established connections with social media platforms, allowing customers to buy through them.
Most social media platforms are focus on serving online shoppers. More importantly, social media has become a channel through which brands can present themselves in the best possible way. The presence of social media leads to more people learning about a product or service.
It is necessary to be able to offload your inventory to platforms like Facebook Shops and connect with Instagram to enable Instagram product tagging (valuable for tagging your products so people can buy them). Undoubtedly one of the most important e-commerce trends of 2021 and already available in Lahore.
Artificial Intelligence
More and more companies are turning to artificial intelligence (AI) to improve their workflows and processes. E-commerce companies are no exception. Retailers are among the first to recognize the benefits of AI in their technology arsenal. Online marketers are expect to spend $7.3 billion on AI by 2022. The motivation is to provide a personalized customer experience.
These developments in AI spending only show how willing retailers are to invest to improve their services. By far, the most prominent AI applications include customer service, sales and marketing.
But areas such as forecasting and pricing are also benefiting from the use of AI. The benefits of artificial intelligence in the sales process are very promising and one of the big e-commerce trends for 2021.
Local shopping: one of the e-commerce trends
One of the big trends for 2020, triggered by the coronavirus pandemic, is the growing popularity of local shopping. With the support of social media platforms like Instagram, the development of new features and story stickers to support local businesses, there has been a boom in consumers searching for products in their geographic area.
Consumers can now see the direct impact they have on their local communities, and this e-commerce
So the future of e-commerce looks bright. Online sales have already impacted numerous companies in various industries, changing the way they do business. The benefits of e-commerce have led to companies making efforts to promote their presence online.
Concepts never heard before and even trivial retail issues such as packaging, a better customer experience, multi-channel sales and sustainable consumption are now taking center stage.
Considering these e-commerce trends can greatly improve the way you sell online and even help you build a strong online business. However, setting up an online store is not a quick and easy task; it requires knowledge and patience. You can rely on a team of experts in programming, design and content.