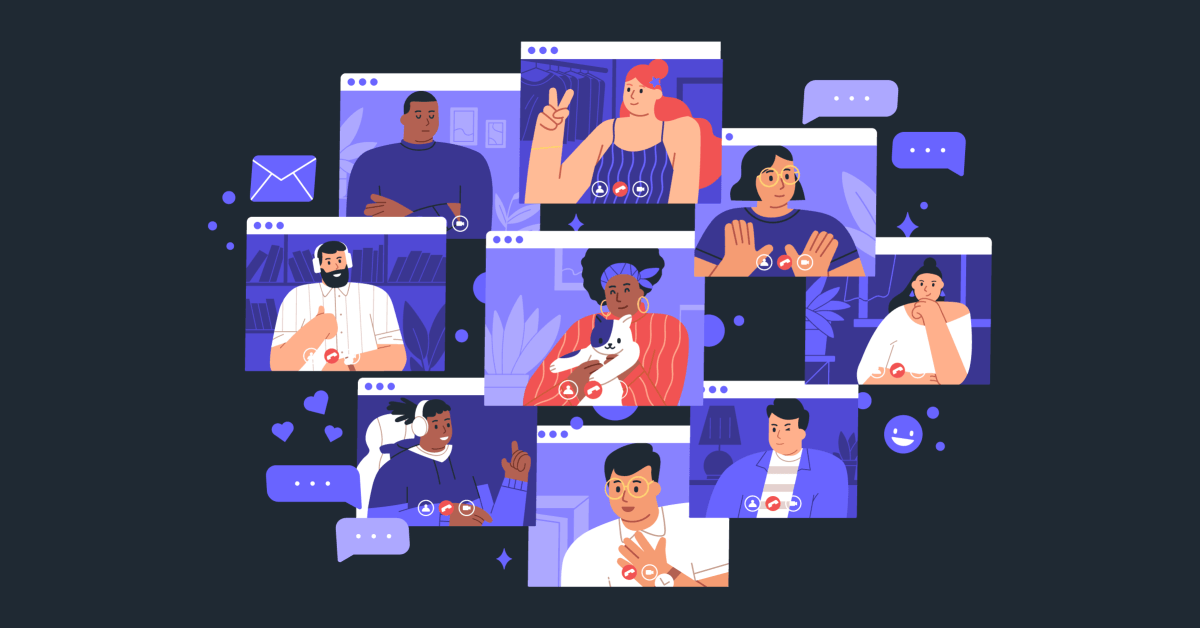 With the outbreak of the pandemic and working remotely, the biggest challenge the corporate world faced was to ensure they stayed connected, updated, and aligned with fellow employees. The solution to this problem came in the form of virtual town hall meetings. Virtual town hall meetings offer an efficient platform for organizations to maintain a dialogue between the employees and the management. Let's explore more and know how you can make your virtual town halls fun and exciting.
What is a virtual town hall meeting?
Companies organize town hall meetings to exchange dialogues and keep the employees and stakeholders informed with company updates. Town halls provide the employees, stakeholders, and the leadership a great platform to communicate and interact with people from other departments who wouldn't get a chance to share a word if not for such meetings.
Ever since we, along with our lives, shifted online, it became more challenging to keep up with our fellow employees and know about the recent happenings related to the business. To ensure everything goes smoothly, organizations across the globe have come up with virtual town hall meetings. In a virtual town hall meeting, all the employees, stakeholders, and management come together virtually and share important updates relevant to the organization.
In this blog, we have discussed some tips to help you host the best virtual town hall meetings-
Virtual meeting platform-
To host a successful virtual town hall meeting, you need to look for a suitable virtual town hall meeting platform. An efficient platform will make sure you have a seamless event. Make sure the solution you choose runs smoothly on desktops and mobiles and can accommodate a high number of attendees. In the times of remote working, many of the attendees will be attending your online town hall meeting in more than one way. Make sure they all have a pleasant experience in terms of audio and video qualities.
Select a suitable day and time-
All your attendees, stakeholders, and people who are a part of your company will attend the virtual town hall meeting. Select a day and time that allows all your employees to connect easily. If yours is a multinational corporation, make sure you take care of all the time zones and days. It is not always necessary to have a single town hall meeting for all your branches across the globe; you can have them as the region or even based on the team.
Keep the excitement alive-
Keep the employees and attendees excited by sending them reminders. You can also take it to your social media and start countdowns. Announce the date and time as early as you can so that people can plan their schedules accordingly. Introduce the meeting agenda among all the attendees so that they can familiarise themselves with it. You can also circulate a survey among all the expected attendees to know what they expect from the meeting. It will also help you to prepare and plan the Q&A session accordingly.
Plan an Agenda-
Plan your meeting agenda and circulate it among your attendees so that they prepare accordingly. Planning the objective will ensure the proceedings don't lose their direction, and everything goes as decided. Include other information, celebrate achievements, and discuss challenges even if the meeting has a clear objective. It will make all your stakeholders involved and engaged.
Assign roles-
To host a successful virtual town hall meeting, make sure you assign roles in the event. Form a moderation team that will handle the chatbox and also the Q&A part. Another team will look after the behind-the-scenes and follow up with the attendees. Assigning tasks according to the team will make the event a seamless process and ensure that everything gets done efficiently.
Have a rehearsal session-
There is no substitute for practice in real life and virtual life. Make sure you have a practice or rehearsal session before the meeting day. Perform a technical run to make sure everything goes smoothly. Also, include a rehearsal session for the speakers to practice what they will deliver during the meeting. Along with it, make sure your moderators also practice navigating the proceedings smoothly. You can also have a dress rehearsal to make your final meeting run more.
Make the online town hall meeting interacting-
The biggest challenge that comes with a virtual event is to keep the attendees engaged during the proceedings. Entertaining a large audience via a virtual town hall meeting platform can be overwhelming. To make sure your attendees gain learnings and do not attend the meeting just for the sake of it, include interacting activities and features. Various online event platforms like Dreamcast offer various engaging features that keep the attendees gripped to the event till the end.
Keep real-time data in check-
Keep an eye on the real-time analytics of your virtual town hall meeting. It will help you understand what strategies people liked more and which could be better. It would also tell you how your attendees are reacting to your entire event.
Include breaks-
Attending long virtual meetings at a stretch can be tiring. Not including breaks in between will make your event boring, and the attendees won't leave with any learnings. To avoid such situations and make sure your attendees have a pleasant experience, keep the sessions short and include breaks in between so that the attendees can recharge themselves up.
Keep a backup plan ready-
It is always advisable to keep a backup plan ready if things go wrong during the event. Even if you feel you are all prepared and all your equipment is working fine, keep another set of potential equipment ready. It will help you save you and your event from glitches and embarrassment. Along with the equipment, make sure you have a secondary internet connectivity plan ready. It would help you avoid delays in case of connectivity issues.
Record the online town hall meeting-
Hosting a live event doesn't mean you can't use it as a resource. It is always advisable to record the proceedings so that if the need strikes, one can always refer to it. You can also provide the recording as VOD (Video On Demand) to your attendees. Your virtual AGM software can make it easier for you by recording the entire event and converting it to VOD.
Plan Follow-ups-
Plan follow-ups for departments, teams, or regional offices to discuss the particulars of the virtual meeting. It will ensure the teams work in particular strategies in response to what was discussed in the proceedings.
Send follow-up emails-
Send video-based follow-up emails to your attendings that would include highlights of the meeting, strategies discussed, and other relevant information. It would make sure they have a record of the event and help them get a quick recap in case they miss out on something.
Get attendees' feedback-
Get your attendees' feedback on the virtual town hall meeting. It will help you know if you have achieved the objective of your event. The feedback from your attendees will help you with your upcoming strategies. You can conduct a survey or send your attendees feedback forms.
Be regular at hosting virtual town halls-
Plan your virtual town halls regularly. It would give your stakeholders and employees a detailed picture of what is happening in other departments in the company. Regular town halls also help you to stay on the same page as others.
Summing Up-
Virtual town halls enable the employees to keep their opinions forward in front of the management. They are an excellent platform to ensure all the employees and stakeholders stay updated with the latest policies and happenings in the organization. Hosting virtual events isn't an easy task, but the tips mentioned above will ensure you have the best virtual town hall meeting, which is fun and highly engaging.