Whether it's a festive season or not, you want to buy new outfits regardless. We get it; you want to keep a collection ready if you get invited to a party last minute. Well, there's a way to save money, though. You can reuse your outfits. Yes, you read that correctly. How about making use of your old lehenga choli and turning it into a new outfit? It's possible. 
Several Bollywood actresses, including Deepika Padukone and Malaika Arora, never shy away from repeating their outfits. Recently, Sonali Bendre wore her wedding lehenga from 19 years ago for this Karvachauth. She also wore a vintage jacket appearing for a reality show, which she wore 20 years ago. It makes us realize the need to put our old outfits to use and how. 
Let's tell you all about reusing your old lehenga choli right here. 
Buy a new dupatta
The easiest way to achieve a modern lehenga look is to buy a new dupatta. If you wore a lehenga years ago and thinking to restyle it, you can buy a dupatta to create contrast. You don't have to use the same, matching one. If your lehenga choli is blue and you have a blue dupatta, you can replace it with a pink dupatta. You will be winning hearts for this look for sure.  
What jewels did you wear last time? You don't want to repeat them for sure. Try wearing silver jewelry if you were gleaming in gold before. The idea is to change your look completely, and your choice of gems and jewels can help. 
Turn your dupatta into a shrug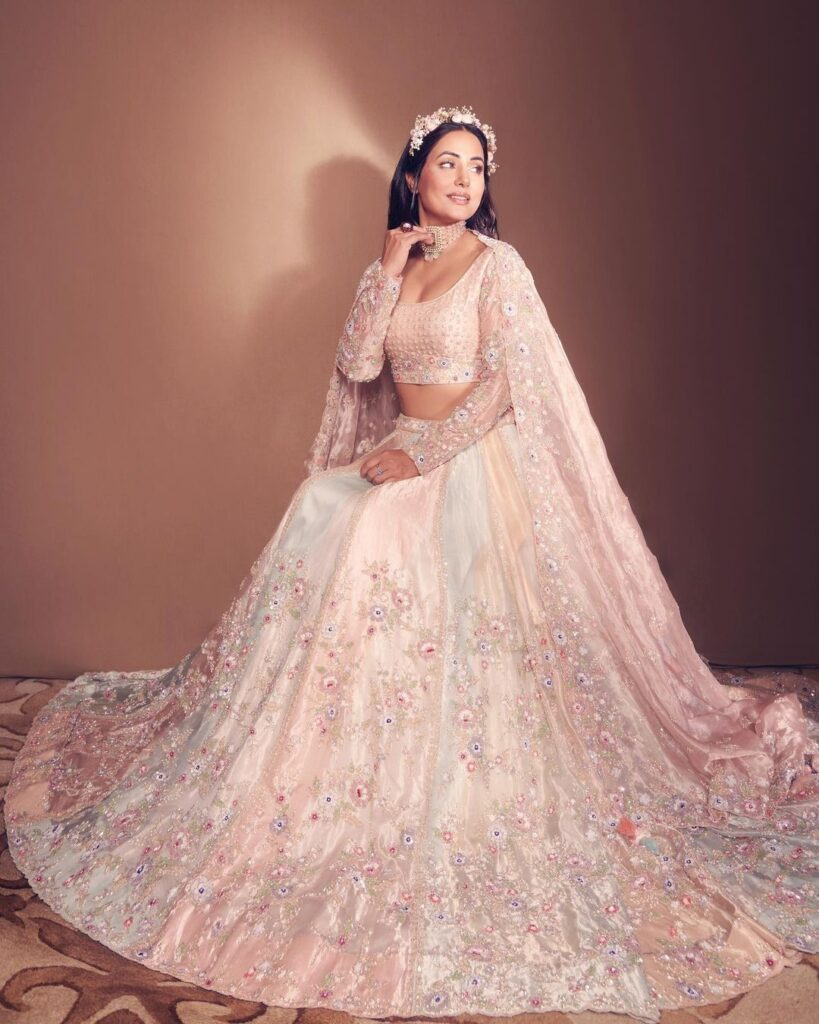 Another thing that you can do with your dupatta is to turn it into a shrug. Visit a fashion designer or go to a tailor and ask them to stitch it to create a shrug. It will save you from the hassle of buying a new lehenga choli. Besides, you would be known for your impeccable fashion taste. You never know; you may inspire your girl gang. How about that? 
For a shrug and lehenga look, you certainly want to go western. How about choosing beads or minimal jewelry? You can select a bangle bracelet, anklets, and waist chain if it suits you. 
Turn it into an Anarkali dress
While choosing an Indian lehenga online, you care to check its length and fabric. You are obsessed with quality, and rightly so. This time, you can reuse your old lehenga and turn it into an Anarkali dress. You can ask the tailor to stitch your lehenga blouse and skirt, so it becomes an Anarkali suit. We need not tell you about the accessories. They have to be stylish. 
Wear a choker or skip the idea of wearing neckpieces. Instead, you can choose a nice pair of jhumkas to go with your outfit. A pasa or a maang tikka can work even better. Sounds fun?
Select a long kurta
One of the simplest ways to reuse your old lehenga choli is to find a long kurta to go with it. Pair it up with a contrasting color. If your lehenga skirt is orange, you can choose a green kurta. You can either go for full-length sleeves or elbow length. Our pick is the latter one. Here, height doesn't matter. What matters is how you wear confidence. A killer smile would do. 
Here, you can choose a closed-neck kurta, so you don't have to worry about picking a designer necklace to go with it. Wearing minimal jewelry is a trend these days. A pair of dangles or long jhumkas can do good. Don't forget to wear a statement ring that exudes charm. Carry a stylish clutch. It will complete your look. 
Make use of your lehenga skirt
You must have browsed several websites looking for an Indian lehenga online. Well, you can take inspiration from the latest looks of your favorite celebrities and create your style. Nowadays, the trend of wearing a lehenga skirt with a shirt is a rage. You can try this style and win praise. It's apt for brunch, date, and a festive occasion. 
An Indian lehenga choli outfit looks graceful. You can add charm to it by picking trendy gems and jewels. For a shirt and lehenga skirt look, you can buy a long silver chain and a pair of studs. Keep it casual by wearing a shining bracelet and a designer ring. You will slay like a diva. 
Readiprint Fashions offers a quality range of Indian ethnic wear. You can buy bridal lehengas, wedding sarees, and festive salwar suits. If you already own a collection, you can buy a new dupatta or a blouse to deck your old lehenga choli. You can also buy anklets, rings, bracelets, chains, and other accessories at the store.