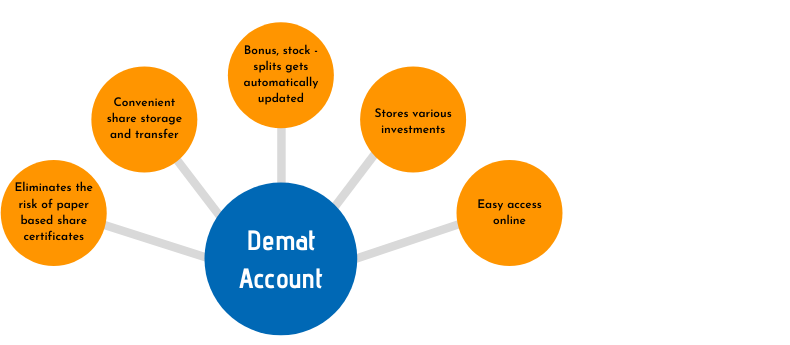 Growing awareness regarding the stock market has influenced millions of individuals towards trading activities. Not just professional investors, but college students, employees, businessmen, and a large chunk of individuals are now motivated to start their investment in the stock market as compared to other financial options.
A primary requisite to start stock market trading, even with a small amount, is a Demat account. A Demat account meaning is a Dematerialization that gives access to infuse funds in financial securities. Every year, millions of Demat accounts are opened with several broker firms, but active accounts for trading, in reality, are quite less.
As per the data available, Central Depository Securities Ltd. is the first depository in India with more than 4 crores (4,41,00,691 accounts) open Demat account. Whereas, the NSDL has more than 2 crore active accounts (2,32,92,945) as of 11th September 2021. As per the study of MarketMojo in 2020, around 0.95 crore accounts are active among a huge size of opened Demat accounts.
By using these facts and figures, you must have some queries regarding this gap between open and active accounts. Let's have a look at some important aspects that will assist you in this regard.
Key issues behind the huge gap between active and inactive trading Demat accounts:
As per the Securities and Exchange Board of India (SEBI), if an account holder doesn't open his/her account for a year, then it becomes inactive.
With social media and technological advancement, individuals get advertisements and informational blogs of stock market trading and apps. Various newsletters, magazines, and other informational websites influence them to enter the financial market. With these influences, people take a decision to open their Demat accounts.
Some are important factors motivating to start trading in the stock market:
●      Easy access to information regarding the stock market:
On the internet, millions of blogs are available that guide about trading with financial securities. These informational pages guide about how to trade in the stock market, different market players in the country to open a trading account, and other related facts. With this information, people are persuaded to open their accounts.
●      Low brokerage fees: 
In India, various broker houses offer Demat accounts with a low brokerage. Most of the brokers' firms attract individuals by giving them the least cost service to trade in the market. As a result, people open their accounts without any hesitation.
●      High return attractiveness with the stock market:
As the broker firms aware people of the advantages of investment in the financial market. Going away from real practice, individuals attract toward the high return potential that becomes a key reason for opening an account to trade.
These aforementioned factors have become a major cause to increase accounts with depositories.
Despite many attractions to trade in the stock market, people leave their accounts inactive after some time. Multiple reasons are there behind this, which are as follows:
Earning a return in the stock market seems easy, but it requires practical knowledge. Lack of training knowledge becomes an important cause to leave a Demat account.
Sometimes, people open their accounts to test a new venture. With passing time, they left their trading account inactive due to change in interest.
Stock market trading requires a consistent watch for the market fluctuation that would be a reason for stress if people are not well conversant with these fluctuations. As a result, people, who are afraid of market fluctuations. leave their account idle.
Conclusion:
The Inactiveness of Demat/ trading accounts is a result of the above-mentioned factors. It can be a concerning issue for stockbrokers and depositories to manage these inactive accounts. people must have to be careful regarding every investment and trading practice with any financial platform.