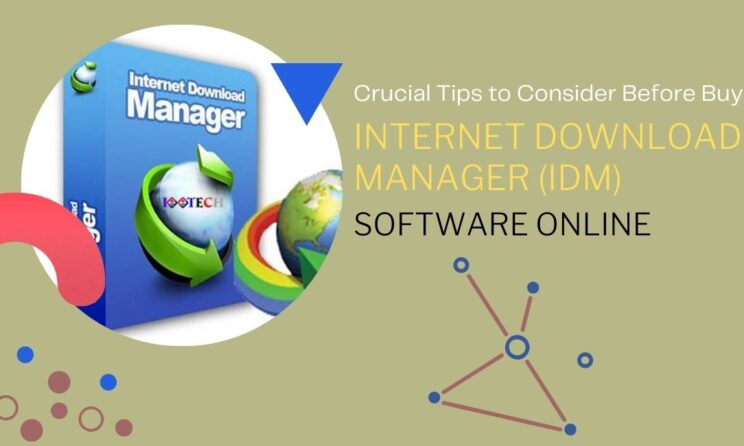 In a world driven by the need for efficient data management and quick downloads, having a reliable download manager like Internet Download Manager (IDM) is essential. However, before you make a purchase online, it's important to be cautious and informed. In this blog, we'll share ten crucial tips to consider before buying IDM software online, ensuring that you make a safe and cost-effective choice.
Official Website or Authorized Resellers: Always buy IDM online from the official website or authorized resellers. This guarantees that you receive a genuine copy of the software, complete with updates and support.
Read Reviews: Before purchasing any software, take the time to read reviews from both experts and users. This provides insights into IDM's performance and reliability.
Compare Prices: While it's important to avoid suspiciously low prices, also be wary of overpriced options. Compare the listed prices from different sources to make you're receiving the best value for your money.
Check for Discounts: Visit the official website for special offers or discounts. IDM occasionally offers promotions that can help you save on your purchase.
Trial Versions: If available, try a trial version of IDM before committing to a purchase. This allows you to test its features and performance, making sure it meets your requirements.
Licensing Type: Understand the licensing options available. IDM offers single-user licenses and business licenses, so choose the one that aligns with your needs.
Payment Security: Ensure that the website you're purchasing from has secure payment options. Look for "https" in the URL and verify the site's legitimacy to protect your financial information.
Refund Policy: Familiarize yourself with the vendor's refund policy. Knowing the terms and conditions for refunds is essential if you encounter issues with your purchase.
Customer Support: Check if IDM offers responsive customer support. This becomes crucial if you run into any problems with your purchase or need assistance.
Avoid Cracked Versions: Steer clear of cracked or pirated versions of IDM. These often contain malware and can be illegal. Purchasing legitimate software ensures your access to updates, security patches, and customer support.
Verify System Requirements: Make sure your computer meets IDM's system requirements to ensure smooth operation.
Privacy Policy: Review IDM's privacy policy to understand how your data will be handled. Be cautious of software that collects excessive personal information.
More tips for buying Internet Download Manager (IDM) software online:
License Verification: After purchasing IDM, make sure to verify your license. You'll typically receive a license key or activation code. Check it against the official IDM website or your purchase confirmation to ensure its authenticity.
Upgrade and Subscription Consideration: IDM may offer various versions, including lifetime licenses and subscription-based models. Consider your long-term needs and budget before deciding which version is right for you. Sometimes, subscription plans provide access to the latest features.
Watch for Cross-Selling: When purchasing IDM, be attentive during the checkout process to avoid inadvertently adding extra products or services. Some websites may try to cross-sell additional software or services during the transaction.
Clear Your Browser Cache: Before making the purchase, clear your browser's cache, cookies, and history. This reduces the chances of encountering technical issues during the transaction.
Avoid Unsolicited Emails: Beware of unsolicited emails or offers that claim to provide IDM at a discount. Scammers often use email phishing campaigns to trick users into purchasing fake or illegal software. Stick to reputable sources.
Backup Important Data: Before downloading and installing IDM, back up any important data on your computer. While IDM itself doesn't pose a risk, it's always a good practice to safeguard your files.
Local Laws and Regulations: Understand the local laws and regulations regarding software purchases. Some countries have specific rules or taxes related to software purchases that you should be aware of.
Regularly Update IDM: Once you've installed IDM, regularly check for software updates on the official website. These updates repeatedly contain significant security patches and new features.
Software Compatibility: Check for compatibility not only with your operating system but also with the web browsers you use. IDM may not be fully compatible with all browsers.
Join User Communities: Consider joining online user communities or forums related to IDM Software online. These can be valuable sources of information, troubleshooting tips, and user experiences.
Read the Fine Print: When making the purchase, read and understand the terms and conditions and the end-user license agreement (EULA). This document outlines your rights and responsibilities as a user.
By following these essential tips, you can Buy IDM Software online UK or any other software online from UK best software selling company Softwareland. This ensures that you not only have access to the best features but also peace of mind, knowing that your investment is secure and legitimate.