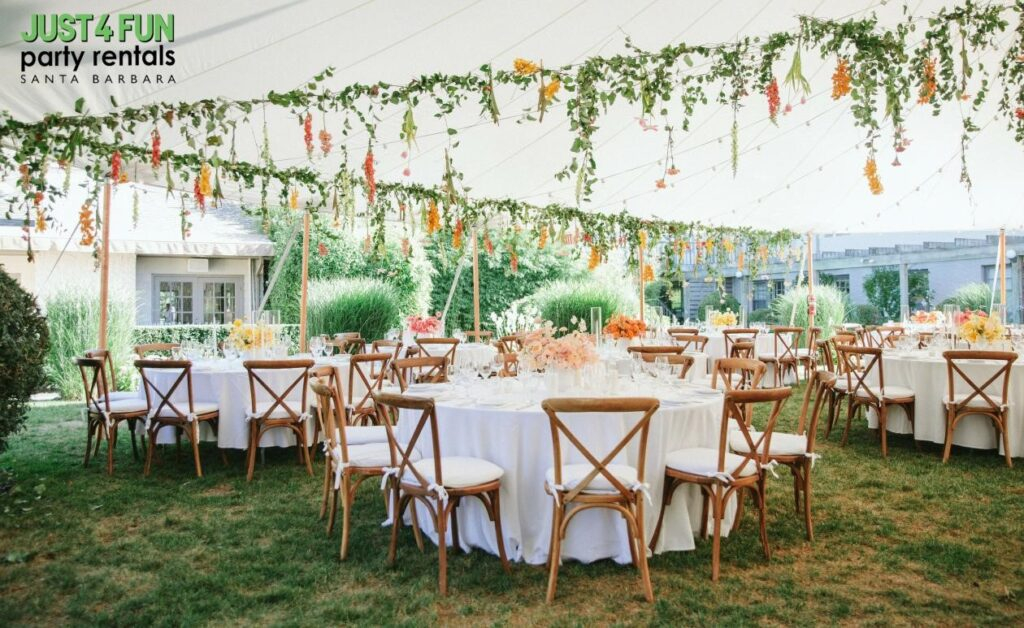 If you're throwing an outdoor party, you should seriously consider renting party equipment. Party rentals, regardless of the sort of party you're planning, may be lifesavers.
There are many variables to consider while planning a great event; therefore, it takes time. When it comes to arranging a party, everything from choosing the proper décor to sending out party invites to creating an event atmosphere is considered. The proverb "the early bird gets the worm" applies to host a successful event. You'll be more prepared for last-minute adjustments if you start preparing sooner rather than later.
It can be challenging to bring together all of the details promptly, regardless of the scale of your event. Consider what your visitors might require when they arrive at your special event. They may need food and drink, as well as instructions on the event and other information. Every event is unique, and some may require dancing areas, a stage, or a concessions bar. Chairs and tables are a party necessity that most people overlook. After all, your visitors will need somewhere to sit, eat, and unwind.
Benefits of Table and Chair Rental
Weddings, bar mitzvahs, and sweet sixteen, and almost all other occasions require tables and chairs. Chairs are needed for comfortable sitting, while table rentals are excellent for displaying decorative items and creating a worthy ambiance. Here are some additional advantages of renting a chair and table that you may not have considered.
Cost Savings – Purchasing tables and chairs are not only expensive, but it is also costly to store and transport, primarily if you only use them for one event. When compared to purchasing event chairs and tables, renting party equipment saves a lot of money.
Flexibility – Renting tables and chairs allows you to accommodate any size party, regardless of how small or huge your guest list is.
Delivery and Set-Up – Transporting and setting up tables and chairs for your event is time-consuming. When you rent party equipment, you may have it delivered straight to your location.
Style – Every party will have a distinct theme and will necessitate the use of tables and chairs. It's critical to have the proper table and chairs to complement the theme of your event. When you rent party equipment, it's easy to figure out what type you'll need for your event.
Maintenance – There is no need to maintain tables and chairs if you hire them. As a result, there's no need to sanitize the party supplies before your event.
Renting tables and chairs for your event has several advantages and is simple to obtain. With so many things that may go wrong during an event, letting the party rental experts handle the minor details is far easier. You won't have to concern about whether or not the tables and chairs will be delivered and set up.
How To Choose the Best Table And Chair Rentals For Your Event?
Adding farm table rentals and chair rentals to your event is a great option to give extra seating without having to buy new or drive all over town, collecting additional tables and chairs two or three at a time from friends and family. You might now wonder, "Where can I hire tables and chairs near me?" It's easy to locate those rental properties. Unless you are a seasoned veteran in the party rental planning industry, knowing what to get is not easy.
So Many Options and Questions, what do I do?
There are a lot of possibilities, and it may be daunting at times. There are also a lot of various styles of tables and chairs available for hire, so how do I choose? That questions, amongst others, include: How many seats fit around a 60-inch circular table, and how about an 8-foot table? For food tables, should I hire a 6′ or an 8′ table? If my guest count is 150, how many tables should I rent? How many rental tables and chairs can I fit into my available space? When hiring tables and chairs for the first time, these are frequent queries.
To steer clear of your doubts and queries, be sure to contact the party rental experts nearby if you want any assistance. However, if you are simply conducting basic research and aren't ready to call out just yet, the following information might help.
What to Consider when Renting Tables and Chairs:
When renting chairs and tables for your next event, there are several essential aspects to consider. Following are the things to consider:
Key Factors to Consider:
Determine how much you want to spend on tables and chairs.
What is the style of the event: Is it formal/fancy, basic/casual, rustic, or somewhere in the middle?
Your event's timetable: When does your event take place? When will your event take place?
Which is better, inside or outdoors? Is your gathering going to be hosted indoors or outdoors?
Will everyone be seated at the same time? Will you set up "turntables" so that different individual may sit at various times? How many people would you want to be seated at once?
Will, you need any more tables for your event, such as food tables, cake tables, high tops, registration tables, and so on?
Requirements for delivery and pick-up: Are you able to pick up the products yourself, or do you need them delivered?
Weight Restrictions: Do you need chairs that can support a certain amount of weight?
Requirements for delivery and pick-up: Are there any delivery or pick-up requirements if the destination is not at your home? Is it necessary to have them delivered or picked up on the weekend or at a particular time?
Will the things be dropped off on a stairwell or in an elevator?
Knowing the answers to these questions will help you receive a more accurate quote and rental recommendations for your event. Opt for the best party rentals using outdoor table and chair rental near me.
Author Bio
Richard Bradford is a freelance writer with years of experience writing on various topics. His recent article is a good read on how to manage the party with table and chair rentals.