While we more or less stayed indoors for almost 15+ months, you might be wondering why we are discussing sustainable fashion trends, because all we have been dressed in our PJs and slippers, jumpers atop, and a messy bun. But we believe that the good times are near, and you can give these colourful, fun clothing a read to uplift you're your mood.

Here are some sustainable fashion trends that you might want to read about.

Patchwork
Popular in the 1970s with the emergence of hippie cultures, it has re-emerged in modern-day fashion and you can quite easily spot patchwork dungarees or patchwork skirts when you are out for a day. From dresses to skirts, dungarees to blouses, shoes to bags and other accessories, patchwork is everywhere.


Pair patchwork with something basic to balance your look. If you are going for a patchwork skirt or dungarees, wear a plain tee with it, or if you are going for a patchwork top wear, pair with a pair of jeans.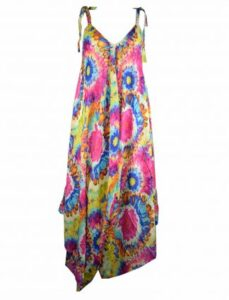 Vibrant hues
If you have thought that you have grown past the neon colours, or they are just a past, then you are wrong! Because they are back, a big time. Monochrome or multicoloured, this year is a year of bright colours, spread all over. Maybe it is something apt to cheer us all.
 
The Power Shoulder
Power shoulders were one of the hottest fashion trends of the 1980s-90s, and this too has made a comeback this year. You can go for oversized jackets with padded shoulders or tops with puffy shoulders and fitted sleeves.
 
Cactus Leather
Cactus leather?! Is that even a thing? Oh yes. Unlike the other vegan leathers that are made mostly of plastics, or natural fibre and plastic blends, the cactus grown for this type of leather is grown specifically to make accessories, requires very little water, and is dried naturally. These are super strong making the accessories strong too to withstand even the harshest or wettest of the conditions. 

Tie-dye outfits
An important member of the alternative clothing family, tie-dye too is very much in trend. At home, there are options of tie-dye athleisure and loungewear, while for outside, tie-dye skirts, tops, shirts, dresses, shoes, caps, bags and so much more are available.
One pro tip: Pair something basic with tie-dye, and if you are not confident about carrying tie-dye outfits, start with a scarf, a bag, a cap, or shoes and slowly introduce it to your fashion statement.

Unconventional sleeves 
This year, sleeves are meant to define the outfits. They can be there or can be absent too. They can be elaborate, delicate, stringy, jewelled, ruffled, made of net, and so on. For many outfits, they signify the whole ensemble and make it stand out in the crowd. Since the sleeves are the main point of attraction, keep your bottoms and accessories very subtle so that they don't clash, or cause any distraction. 

Luxurious Sportswear
Sportswear is probably the easiest clothing to wear. But some may mistakenly consider sportswear to be activewear. Sportswear, as Wikipedia says, "is an American fashion term originally used to describe separates". So, sportswear is everything that you wear…trousers, skirts, tops, shirts, jackets, and so on. Didn't we already mention that this is the easiest clothing to wear? 


This year, the sportswear just got a luxurious upgrade.  

Tiny and dainty floral prints
The petite floral prints are so vintage, yet so modern, and would be one of our favourite sustainable fashion trends. It adds a touch of freshness to your wardrobe. Look for oversized floral dresses, pair them with a wide belt, a vintage blouse with floral prints paired with high-waist jeans, or a plain shirt with a skirt with floral prints all over.