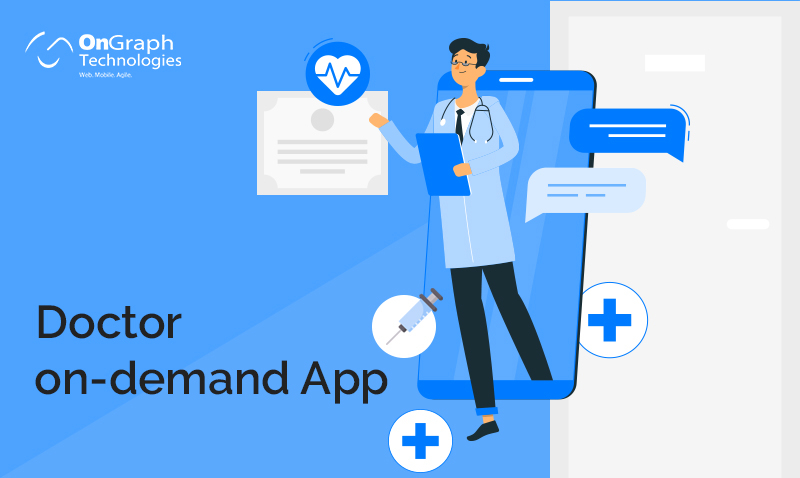 At present, you can order everything on-demand from food to taxi and even doctor. These three demands have been popular for some time. Clinics, physicians, and patients have all shown an interest in telemedicine software development services. According to Grand View Research, the worldwide telemedicine industry would generate $55.9 billion in sales by 2020.
To understand the value of doctor on-demand, we need to consider some points. The point will be providing the best healthcare services to the patients.
What Are the Benefits of Doctor On-Demand Apps Development for Patients?
Discover why patients are searching for doctor on-demand apps development
1- Doctors are not readily available in the area.
Patients who live in rural or remote places are not able to access healthcare services. They can access telemedicine software development services with the help of an on-demand doctor app.
2- Long travel hours and germ-free waiting times
Patients would no longer have to drive long distances or wait in clinics for hours. There is a risk of infection. Patients cannot miss a situation like a COVID-19 pandemic where patients need to avoid human contact and still need medical help. They may use the app to make an appointment and call a doctor.
3- Doctors are available 24/7 for the elderly and disabled.
The elderly and disabled patients get the treatment using this app whenever they need it, without traveling too far. This app provides 24/7 support to their patients.
4-Data/monitoring of patients is challenging
Patients can communicate with a doctor remotely through a video call using doctor on-demand apps. You can send medications to them immediately away based on the diagnosis.
5- Specialized physicians are available
In the doctor on-demand app, highly experienced doctors are available. This app allows patients to search doctors according to their problems.
What Are the Benefits of Doctor On-Demand Apps for Doctors?
1- Patients are easily accessible
With doctor on-demand, doctor apps, doctors can provide 24/7 support to patients. Patients can schedule appointments if there is so much demand, and doctors are at patient support.
2- Improve the health of the patient
As you become more familiar with a patient's prior history, it becomes simpler for them to receive the essential therapy from time to time. As a result, you can help them on the move rather than making them wait in line at your clinic.
3- There will be less administrative work
With the help of a doctor on-demand app development, you may save time on administrative duties and paperwork. However, it also saves money.
4- Flexible Work-life balance
The majority of doctors struggle to strike a work-life balance. But that's where a doctor-on-demand app can help you win and minimize stress in your life.
How Long Does It Take To Develop An On-Demand Doctor App?
The time it takes to construct a doctor-on-demand app varies depending on several factors.
1- The scope of the project
2- list of features and functions that must be included in the doctor on-demand app.
3- utilization of technology to create an app.
4- Complications in implementing multiple features and functions
5- The number of employees on your team, but developing sophisticated doctor-on-demand software with telemedicine software development services capabilities takes a few months.
How Much Does a Doctor Appointment Booking App Cost?
There are no two doctor on-demand applications alike. These apps differ in various aspects, such as features, app design and performance, and building app geographic location.
All of these factors combine to determine the total cost of developing a doctor on-demand app.
It is best to launch the MVP version of your doctor on-demand app.
Doctor on-demand app reaching telemedicine software development services to enhance efficiency and better care. SISGAIN is a well-known company offering doctor on-demand app development solutions to companies. This aim is to provide better care services to patients. Our app developers are highly skilled and have experience of more than 7 years of developing apps. The app developed by our company is based on the latest technology and follows the HL7 standard.
SISGAIN app development features
1- User-friendly doctor on-demand app.
2- Our app developed based on the latest technology
3- Customize the app as per the client's requirement.
4- Follow HIPAA compliant standard
5- We built a secure app.
6- Our app supports a large database.