Linen is typically considered to be a summer/spring fabric because of its lightweight and breathable nature, with cooling properties. But little do we know that Italian linen dresses can also be worn easily during the autumn/winter months.


If you want to include your linen clothes as winter clothing without having frostbites, there are a few tips and tricks that you need to implement. Linen is tagged as one of the most versatile and best fabrics to wear throughout the year because of its specific features. While in summer it allows the body to breathe and stay cool, in winter it traps the body heat and prevents you from feeling cold.

But yes, along with those Italian linen tops and linen dungarees, you would require some woollen coveralls. How you can style your winter linen looks is what we are going to discuss in this article.

Layering linen clothes for the colder months
Layering outfits have been so much in style for the last few years. Full-sleeved, neutral-hued knitwear, high-collared, or a V-neck would act as the best base for your layered look, and to keep you warm. The easiest one would be to wear a turtleneck full-sleeved top (replacing the usual tops/tees) and pairing linen dungarees or a colourful Italian linen jumpsuit atop the knitwear with it. Wear a pair of heels with this. This is one of the easiest methods of layering.
Another type of layering would be tonal layering. As the name suggests, it suggests layering the same colour palette, together, but with different tones. Let's say black turtleneck knitwear, and on top of that, a grey-coloured Italian linen dress or an oversized grey/navy blue or white satin shirt and a pair of jeans. Tonal layering imparts an exceptionally stylish look.
It is especially recommended for people who go for minimalistic outfits. It is smart, elegant and it cannot go wrong.
Pro-tip: It is easy to layer clothes with different necklines. Choose a higher neck top atop which you would throw on your Italian linen dresses or shirts. This will make it look chic and smart.     
 
Layering different materials together
Linen outfits look great when matched with fabrics like cotton, crepe or raw silk, or Tencel. 
Wear duster vests atop your Italian linen dresses or linen shirts to warm yourself up. 
Cardigans should be your go-to thing during the winters. A soft, cosy, and warm, long cardigan is the perfect pair to all your I-want-to-wear-a-linen-dress cravings during the autumn/winter.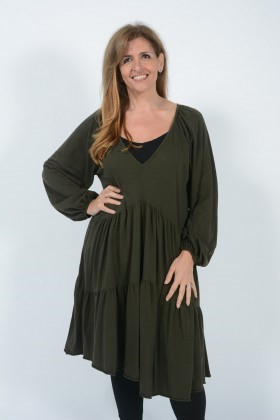 How to convert your linen clothes fit for winters
Pairing warm accessories with your linen outfits can be another option.
Socks: Woollen, knee-high socks that match your midi-linen dress or the linen shorts is just perfect to qualify as a cosy outfit.
Scarves: A cosy, knitted woollen scarf can never go wrong during the winters.
Boots: Again, one of the most fashionable and popular ways to keep yourself warm yet let you style in your favourite linen dress is by combining it with tall, furry boots. It is fashionable and your legs won't feel cold.  
Pro-tip: Switch your tights with knee-socks during the winter. Tights tend to fall while you move when you wear them under dresses. The knee-socks, on the other hand, stick to your skin, are comfortable, and stay in place. When combined with leather boots, they look even better.
Therefore, it is time that you get rid of your old beliefs and discover linen fabric in its new form. Discover new ways to style your linen outfits even during the cold months. Layer them up, throw on some winter accessories, and voila! You successfully implemented linen outfits as your daily wear throughout the year.