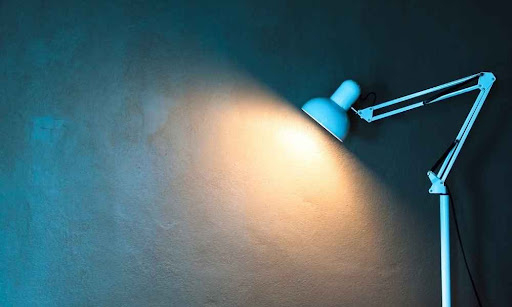 Lighting can determine how welcoming and comfortable a space feels when it is dark and supplying a space with plenty of light sources can boost the general atmosphere while reducing eye fatigue. A lack of or too much lighting can make the eyes fatigued. Furthermore, the amount of reflections of light on walls in the night creates an appearance of more space which makes even tiny spaces appear larger (inversely the presence of a single lighting source can reduce the perception of space). So lighting designers and interior designers always suggest layering light sources using an overlapping range of ambient, accent as well as task-lighting sources.
To imagine this, think of the lighting in your interior as a three-piece group. The accent lighting will be the primary guitarist, who plays solo at the corners, drawing the attention of a particular section of the room or important element (a piece of artwork or furniture, for example). Ambient functions in the background as a bassist, providing softer and general lighting that sets the overall mood for a room. The task light acts as a voice, casting a variable illumination for working, reading or simply hanging out in a comfortable environment, without shadows or glare. Take all three of them together and you've got a perfect luminescence that is layered with nuance, mood and purpose.
In the same vein that a floor lamp can actually be a complete band itself. If it is paired with the right lamp and additional dimming device to alter the lighting output, certain models can be used as ambient, accent and task lighting all in one. The majority of the time, the floor lamp functions as a mix of the three sources of light that are typically ambient and task. This is why we believe that every living space should have a floor lamp to go along with other lighting sources that are overhead or nearby.
Before you set off to select the floor lamp, you must answer these questions before setting off:
How big is your space and what is the ceiling height?
 If space is restricted, consider an arc, rod or swing-arm task light. Lamps that have shades or a tripod base take up larger space. They are recommended for rooms that are average to large and only rooms with high ceilings must be fitted with an arc light and will dominate even a small space. Before buying, make sure to take measurements of the lamp's height and circumference in relation to the space you intend to. I typically believe that the height of a floor lamp should not be more than 6-7 feet tall in a typical room with 8-to 10-foot ceilings. Rooms that have ceilings that are particularly high (above 10-foot) can be able to accommodate larger lamps, and highlighting verticality can add drama.
Do you need to read or work under the lamp, or is it meant to serve as an ambient light source? Floor lamps with arcs and task lamps can provide a non glare-free overhead light or recessed arms and/or adjustable shades that bring light precisely to the place you need it. The tree floor lamp provides the ability to adjust light levels, however, its reach is restricted by the position of its multiple-tiered shades. Lamps with shades are referred to as"console lamps" (also called "traditional" or "shaded") offer diffuse light that creates an ambient light that is pleasant around and above, but they're not the most ideal for reading. A rod-style lamp isn't able to illuminate a whole space, but when set in a corner, it will provide additional light that complements any other source of light. Take note of your typical nighttime routines. If you tend to knit or read frequently lighting that is positioned overhead or over the shoulder is ideal. If you're an avid Netflix addict, you'll need lighting that provides an elongated, soft light without the glare that can ruin "just one more episode" evenings.
Do you want your lamps to make a statement or blend into the other furniture?
Imagine how the floor lamp would look in the background of furniture, wall color, as well as other ornamental features. Task lamps and tree lamps are often incorporated into smaller rooms. The arched arc lamps that are tall or lamp shades for consoles draw the eye. If you're searching for something that stands out, keep an eye on how you'll typically spend more money to get items that stand above the rest in terms of size or design.
Are you planning for the lamp to be moved around? Most floor lamps are lightweight enough to be picked up and move around with only one arm. However, arc lamps and bigger tripods can be heavy and awkward after assembly. Be sure to verify the base and weight prior to buying to avoid getting stuck with something that is heavier than you are able to safely and comfortably carry.
How did we choose
We looked for lamps that could provide great ambient or task lighting and will look nice in a variety of houses. Photo: Kyle Fitzgerald
Searching for "floor lamp" brings back thousands of different styles to choose from, with a few barely different from each other–from the common torchiere lamps that you may remember that lit up your dorm room in college (and accidentally spotting the flying bugs) to huge designer art pieces priced in every price range, but all accessible. We narrowed down our search to six designs–task, console tree, tripod and rod lamps that could meet a wide range of lighting requirements.
We searched for lamps that met these requirements:
simple for most people to carry and put together on their own

A consistent and uniform fitting and finish between components

A stable, solid posture free of moving or wobbling

the ideal length of cord and its position (a apparent cord not always desired)

easy to access on/off controls

an ideal height for people are reading at (optimally 60 inches at the ground)

In stock and readily available in stock, which is an issue for seasonal style retailers that rotate styles out rapidly to make way for new designs
When a shade has been provided the brightness and the quality of light's diffusion must be warm and inviting rather than just bright. If a lamp is described as adjustable, its height and direction of light should be easy to move to accomplish tasks.
We chose lamps that cost below $300 in order to discover reasonably affordable alternatives for homeowners who are first time buyers, or those with a limited budget. The advantages of spending more are mostly to the design. Take, for instance, the distinction in two lamps: the Flos Spun Light Contemporary floor Lamp (roughly $2000) and the similar Adesso Oslo floor Lamp (around $100). Apart from having the pedigree "Designed by Sebastian Wrong" to boast on, the costly model is typically more expensive and has a higher amount of detail (much of it very subtle) as well as a more durable construction using higher quality materials, a heavier total weight, greater dimensions, and features like the integrated zero-to-100 100% intensity dimming feature.
Luckily, design that is good at an affordable price is available more widely because of places like Target, IKEA, and Amazon. Lamps that cost less than $300 and offered by different stores can appear as if they're the same lamp, or just marginally different. The mass-market retailers get many of their items, including furniture, from the same manufacturers in other countries and purchase off-the-shelf, ready to ship models (many times are sold under the heading "available online only") that they may alter before rebranding with their personal. When you consider the design aspect, Target and IKEA sell lighting on par with the more costly home furnishings from retailers such as West Elm as well as CB2. Based on my experiences designing furniture and visiting factories in the world that supply mass-market retailers, the distinctions are mostly cosmetic like a different style or design. Certain retailers serve customers who spend more for trendy styles.
attractive. We spoke to Staci Ruiz, an interior expert with more than 30 years' experience. Her designs are found in homes across Manhattan and the Interior designer Whitney Jones of Whitney J Decor to find out more about lighting for creating cozy spaces, the most common lighting errors to avoid and the top shops to shop at to purchase floor lamps.
Floor lamps "give off a layer of lower level lighting that compliments people's appearances, and allow you to control the glow of a room." Ruiz. Ruiz. "Overhead lighting can sometimes be harsh and garish. By turning off those lights and using a floor lamp instead, you create a very intimate feel."
Jones added that floor lamps, when utilized in conjunction with other kinds of lighting, will add an extra dimension to any space. She suggests using floor lamps as a layer of lighting, so that you are able to choose from a variety of lighting options for every time of the day, and for all kinds of jobs.
There are many lighting designs available. We consulted with Ruiz as well as Jones to select a range of retailers selling floor lamps which offer the right balance of quality functionality and design.
Use lighting to set the mood
The process of setting the mood for lighting starts by deciding what you will do with the space.
Floor lamps offer an additional layer of light that enhances the appearance of people by bringing a gentle glowing glow that the harsh overhead lighting can fade out. If you're looking to relax and hosting intimate gatherings Floor lamps are the most ideal option for inviting lighting.
"Different shades, bulbs, temperatures, and wattage will change how much light the floor lamp gives off," explained Jones It's therefore important to take into consideration the practicality of your lamp it's best to select things like a light shade or a more bright bulb for reading lights in your office space however, you could also choose warmer tones and a shade with a color to light up a conversation in the living room.
Designers have told us that the best method of lighting any room is to mix multiple forms of lighting in the space. This can include the overhead light, recess lights and task lamps like floor lamps. With this mix of lighting can be controlled, you can alter the atmosphere of a space according to your lighting requirements.
Common lighting errors that homeowners make when lighting their homes
The perfect lighting for your home is an overwhelming task, particularly considering all the aspects of lighting design. These comprise the entire spectrum of color temperatures and lumen output. Ruiz advises anyone undertaking major lighting designs in homes and has the funds to think about hiring an interior designer, since around 30 percent of her work is fixing errors made by homeowners.
Jones stated that often she has clients only focus on the style of the lamp, rather than their lighting requirements or the way it fits within the dimensions of their room. She suggests that consumers think in choosing the right lamp that is functional and stylish and works in harmony with other aspects of the room.lamps that are either too large or small can look unnatural in comparison to furniture.
Experts have said that putting thought and care in your choice of floor lamp can save you time, money and frustration in the end.
Placing floor lamps
The position of the floor lamp is dependent on the specific space and the type of space you want to light. If you're trying to illuminate small spaces or a seating space, you should place the lamp in close proximity to furniture. But if you're hoping to illuminate a large area then you'll need to place the lamp in a space that can bring light into the room. It's important to consider the lighting requirements of your room and think about where the lamp will serve you best.