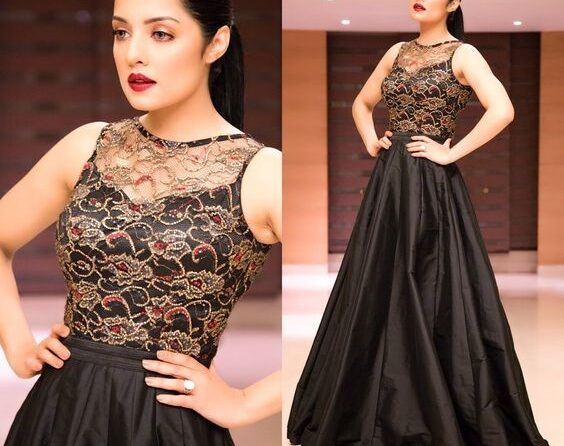 So, you want to look the most elegant women at the party? You've found the perfect gown, footwear, and accessories. You've done your make-up, but your hair looks disaster! Or maybe you are just confused that what will look good with that gown.
No worries, we are here to suggest to you some really elegant and super easy hairstyles for gowns that will catch all the eyes at the party.
Also read, 5 Style Tips to Reuse Your Old Lehenga Choli
Sleek ponytail
A simple sleek ponytail can be a good option if you are planning to slay in a more professional look. Yes, a sleek ponytail can make your gown look into something semi-formal. For this hairstyle with gown just straighten your hair and tie them up into a perfect ponytail. Never forget to use a setting spray.
Buns decorated with various flowers in various colours make for a beautiful bridal hairstyle for gowns. Of course, the appeal of open adorned tresses and hairdo accessories are undeniable, but buns have a timeless elegance that cannot be matched.
It looks extremely simple to recreate the Disney princess Elsa's look by this really easy side braid.If you already know how to make Dutch Braids, imitating this hairstyle will be simple and quick. Messy side braid, also known as Dutch braid is a classic hairstyle on gown that gives you an elegant princess look.
Straight and long hair can make you look glamorous in any outfit. If you have naturally straight hair then it's a cherry on the top or there is always an option to straighten your hair. After all, we are so good at straightening our hair. Long straight hair we will make your pretty face looks even prettier!
When you are looking for a perfect hairstyle with gown the braided bun is something that you will never miss out on. If you want to go a little extra with your look then braid with a bun is the perfect option for you. You can easily steal the spotlight just by wearing adding matching accessories to this hairstyle.
If you can't decide between an up-do and a down-do hairstyle, we recommend looking at the range of half-up half-down hairstyles on gowns. You'll get the best of both hairstyle classes – the naturalness and chic of freely flowing locks and the elegance of the lifted up section – in this way. You can always use a few flowers and accessories at this hairstyle.
The sleek bun is the most sophisticated hairstyle for gown. Be it your wedding or your friend's, the sleek bun is the perfect hairstyle for a beautiful and elegant look. It looks best with few minimal hair accessories. Modern brides just love this hairstyle.
If you want to look funky yet beautiful in your gown then the half tied bun is meant for you. The funky half tied bun can look sophisticated with just a few accessories and flowers. This hairstyle is trending among college girls and can slay any look. Light curls can make this hairstyle look even more graceful.
This is a lovely twisted hair bun for classy gowns and they are easy and quick to make. This hairstyle on gowns is to embrace the sophisticated women in you. The hairstyle is intended for women with long hair. Small elegant accessories can make it look even more stylish.
Messy bun
A messy bun is a very easy hairstyle and looks very elegant. For women who are always in hurry, this hairstyle with gown is your life saver. Just make an everyday bun and backcomb your hair for a messy hair look.