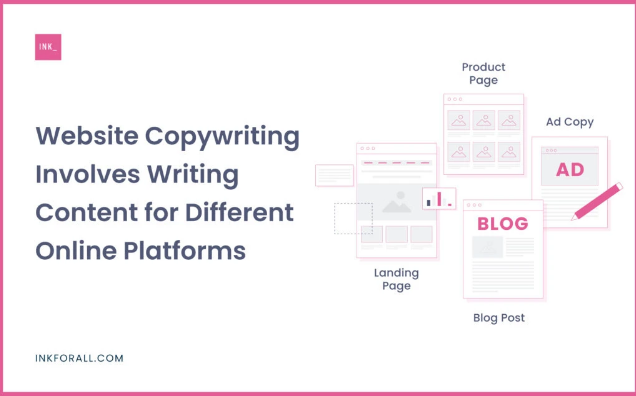 Web copywriting is also known as "writing for the internet," It involves writing content online, including ad copy, social posts, and other marketing materials. A well-written copywriting will keep your readers interested and lead them to take action, such as submitting a form or making a purchase. Creating digital content for landing pages and product pages, blog posts, and other purposes are called website copywriting. The engaging copy will keep website visitors interested and encourage them to take action that is both meaningful and important to them.
The Importance Of Good Copywriting For Your Website
It's a great way for your website to stand out among your competitors by investing in copywriting. Imagine how it would feel to be. A customer is looking for the best service online. What would you rather choose: a website with a lot of information but isn't well written, or one with lots of useful, engaging content? You would probably choose the latter.
The Importance Of Good Copywriting
It Highlights Your Brand's Values.
Copywriting is the job of a copywriter. Great content that highlights your brand's strengths and values. Your main goal is to connect with your audience, persuade them or buy your product. It is important to get to know your audience before you can write copy that targets them. Your values will speak to them, and they will be comfortable with what you do.
It highlights your brand's strengths.
As a copywriter's job is to create new content for advertising and marketing to entice readers. Website copywriting serves the same purpose: to engage and persuade visitors to do business with your company. What makes your brand/business worthwhile? What makes you worthy of their attention? Copywriters are skilled at writing for specific audiences. They can choose the right words and push the buttons to convince with sincerity, authority and conviction.
It increases your website traffic.
SEO requires good copywriting. It should be engaging, friendly, informative, and easily shared by your readers. If you see an increase in traffic to your site, you know that you have done your content properly. Good copywriters will use keywords to drive the right traffic to your site. You can reach potential customers faster and easier with the right keywords.
Creating Value-Driven Content.
Every word you write should have a purpose. We all know the expression, "You only get one chance." shot at making a first impression," or as Rob Zech prefers to put it, "You only get one shot to make an impression." This is why it is important to give your audience meaningful information and explain convincingly all the benefits of your products and services.
It includes clean, engaging, and useful content.
Clean writing is the key to persuasive copywriting. Writing for the internet requires that you understand that less is better. Less is more with paragraphs, sentences and words. There is no need to repeat. No repetition. However, you shouldn't limit yourself to a few paragraphs per page. A good copy must be clear. Good copywriters will not confuse their readers with highfalutin words or long sentences. A good copywriter will also know when humour is appropriate to draw people to your site. Here's a tip. Use the active voice to keep your writing clear and engaging.
It Sets You Up as a Niche Expert.
Copywriters must conduct extensive research on the niche and be able to communicate with them. Your customers' information is your responsibility, so you must establish your credibility. Customers will regard you as an expert in their field. You're niche once you are satisfied with the content on your website.
Building a Brand Image Through a Copy.
It is essential to understand who you want to be to your audience. Stick to your brand once you have defined it. Your audience should get to know you. A great website copy will make it easier. Your tone, style and language should be consistent with your brand. You will not succeed with the generic, unoriginal copy.
It boosts your sales.
Even if you have the best web copy, what good is it if there's no call to action? A well-written web copy should include many calls to action and links. It does not complicate the customer's experience by providing incomplete information. It is clear and to the point. It is clear and concise. Good copy explains how customers can buy your service and engage with it most conveniently. It is a clear path that allows customers to convert and do business with you.